Kayaker safe after 19 hours at sea
She is found a mile off Maui on a float made from her swimsuit top
A 49-year-old Alaskan woman survived a night at sea a mile off Maui with nothing but a flotation device she fashioned out of her bathing suit top and a hydration pack.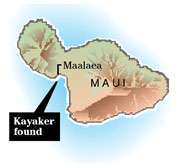 The woman survived 19 hours in the open ocean with nothing on but her swimsuit bottom, according to a boat captain who came to her rescue at about 7 a.m. yesterday.
"She told me that she kept telling herself, 'At least the water's warm,'" said Joseph Carvalho Jr., captain of the fishing charter boat Strike Zone. "Your survival instinct kicks in. She made something out of nothing and that saved her life."
The woman, who is from Juneau, Alaska, told Carvalho she had been kayaking alone and had paddled out to some tour boats at about 11:30 a.m. Thursday. She was passing out some invitations to a benefit party and made it to one tour boat, and was heading to another when the wind caught her, flipped the kayak over and blew the kayak away from her at about noon.
Carvalho said he and his crew left Maalaea Harbor and were trolling to a bottom-fishing spot when he spotted something a quarter-mile away.
"There were a million whitecaps and I saw something different," he said. "Something made me go look at it, and I don't know why."
Winds were blowing 20 to 35 knots at Ukumehame -- one of the windiest spots off Maui, Carvalho said.
"I thought it was a balloon in the water," he said, and went to check whether there were any fish near it.
When he got 100 feet away, he realized it was a person.
"I actually thought she might have been dead," he said.
His co-captain yelled at her. "She turned around and saw us," he said.
They approached slowly and brought in all their fishing lines, and one co-captain jumped in, while the other threw a life ring.
"I could only see her head and the Camelbak (a hydration pack that contains a water bladder)," he said. "She had it as a pillow with her arms resting on it."
A Coast Guard spokeswoman said the woman was dehydrated but did not suffer from hypothermia.
Carvalho described her as extremely dehydrated and delusional and said she couldn't remember her name. The crew gave her water and food.
They contacted the Coast Guard, and rescue personnel arrived at 7:40 a.m. The Coast Guard brought the woman to Lahaina Harbor, where Maui emergency medical services personnel picked her up and transported her to Maui Memorial Medical Center. She was treated and released.
"Something clicked and she had the will to survive," Carvalho said. "I'm glad we found her and I'm sure she's more glad we found her."