| | |
| --- | --- |
| | Wood Craft |
---
Ballet Hawaii's Marks Estate gala has Great Gatsby theme
The Great Gatsby Era will be the theme for Ballet Hawaii's fundraiser Nov. 3 at the historic Marks Estate on Old Pali Road, owned by
Douglas Himmelfarb
. "Return to Elegance" is a pricey affair at $300 per, but those willing to lay out the three big bills will get more than good entertainment, food and drink.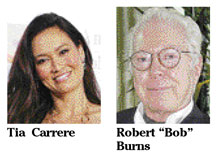 Ticket buyers are invited to learn dances of the Gatsby Era at Ballet Hawaii's Iwilei studios. Ballet Hawaii's Artistic director
Pam Taylor-Tongg
offers a class on the Charleston Oct. 28 at 3 p.m.
Jim Hutchinson
will teach a class on the Lindy and Shim Sham Nov. 1 at 6:30 p.m. At the party, singers
Jimmy Borges
and
Sonya Mendez
will be backed by a dance band. Chai's Island Bistro is providing dinner and Bistro Catering will provide other tasty treats ...
Psychologist Robert Spicer, Clark Hatch fitness center's 88-year-old strongman who recently returned home from Washington after being named one of 50 of America's "Outstanding Older Workers," is in line for another honor. The Hawaii Psychological Association has named Robert to receive its Lifetime Achievement Award for 2007. The award will be presented at a Thursday luncheon in the Hilton Tapa Ballroom ... Hawaii's Tia Carrere, gorgeous and sexy, popped up on Kelsey Grammer's "Back to You" Wednesday, playing a pick-up target for Grammer's character ...
Burns is active developing hotels in Asia
Robert "Bob" Burns
, well known in Hawaii since the 1960s as G.M. of the Kahala Hilton and for dedicated work with UH's Travel Industry Management program, is going strong in his late 70s. "I'm still very active in Asia developing hotels," he e-mailed after I requested an update on his activities. Burns formed Regent International Hotels and also played a major role in the rebuilding and startup of the "new" Halekulani years ago. "I'm doing a Grand Lux property in Beijing and a beach resort in Vietnam," he said. He added that he and his family have "a beautiful new place in the Hamptons" ...
Augie Rey
celebrates his birthday next Saturday at his Saturday-night Elks Club gig, 7:30, with his
Little Big Band
. Birthday cake and champagne toast at 9 ... I will be off all next week to mark my 76th birthday on Oct. 26. The birthdays seem to come a lot faster after the 70th ...
Ben Wood
, who sold the Star-Bulletin in the streets of downtown Honolulu during World War II, writes of people, places and things in our Hawaii. E-mail him at
bwood@starbulletin.com