---
FAST FACTS HAWAII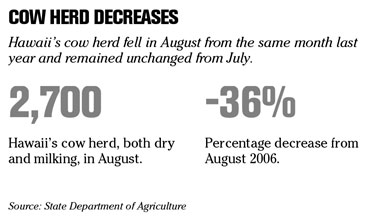 ---
HAWAII
Rate hike effective Monday
Young Bros. Ltd.
said yesterday its 7.5 percent rate increase for interisland shipping takes effect Monday.
The increase was approved by the state Public Utilities Commission last week without an effective date. The shipper also won permission to apply a fuel surcharge, but the company said yesterday it will not be doing so on Monday.
Young Bros. initially had sought a 10.7 percent increase, but settled for the lower figure after talks with the state Division of Consumer Advocacy. Catherine Awakuni, the agency's executive director, said last week that the company didn't provide enough supporting evidence to justify the larger increase.
The new rates will yield an extra $4.4 million in annual revenue for Young Bros.
Isle firm gains sister company
The mainland parent company of Honolulu-based Safety Systems Hawaii Inc. this month acquired another supplier of traffic control and safety equipment in California.
Marwit Capital Partners II LP, a private equity firm which bought the Hawaii company in June, has added Statewide Safety & Sign Inc. of Nipomo, Calif. to its expanding portfolio.
The companies, which are the largest independent providers of traffic control and safety products in the Western United States, are part of Traffic Control & Safety Corp.
The terms of the sale weren't disclosed. However, Marwit said it invested $11 million in the acquisition of both companies.
Marwit seeking to acquire other companies as part of a plan to build "the largest independent provider of traffic control products and services in the Western U.S," said Chris Britt, managing partner of Marwit, which has invested more than $250 million since 1995.
NATION
Murdoch stock class challenged
NEW YORK » A proposal to eliminate
News Corp.
's dual-class stock structure won some support among shareholders yesterday, signaling discontent with a system that allows Rupert Murdoch's family to maintain control over the global media conglomerate.
Murdoch's family trust is the largest holder of Class B voting stock with 30.1 percent of the shareholder vote, while John Malone's Liberty Media Corp. is the second-largest with 19.1 percent, according to News Corp.'s proxy statement.
The proposal didn't come close to passing, winning approval of just 22.9 percent at the company's annual meeting yesterday.
S&P downgrades $22B in bonds
NEW YORK » Standard & Poor's yesterday announced another massive round of downgrades for bonds backed by home loans that the credit-rating agency said are susceptible to default.
S&P cut its rating on $22.02 billion of bonds representing 1,413 classes sold from the fourth quarter of 2005 to the fourth quarter of 2006 and backed by "subprime" mortgages, or home loans issued to people with poor credit histories.
---
BUSINESS PULSE