2006 BIG ISLAND EARTHQUAKE: 1 YEAR LATER
MAUI
Eastside community still stranded by damage
WAILUKU » Kaupo Store co-owner Linda Domen estimates her business is down by 98 percent since an earthquake rocked East Maui more than a year ago.
"I've been open all day and there's not been one car," Domen said Monday.
While business has returned to normal for most people on the Valley Isle, some residents in the rural area of Kaupo are still feeling its financial tremors.
The county road at Lelekea remains closed to prevent visitors and residents from using the back road between Kipahulu and Ulupalakua.
Domen said her family had been dropping off her daughter at the road barrier near Lelekea to catch a school bus to Hana High School.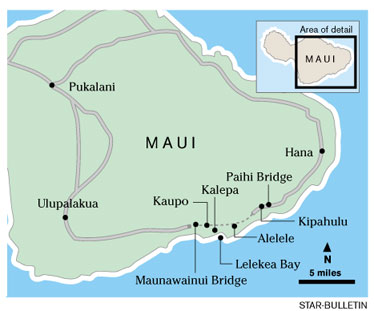 But Domen said with additional construction scheduled this year, her family was forced to have her daughter live elsewhere and attend King Kekaulike High School in Pukalani on the other side of Haleakala.
"There's been so much upheaval in my family," Domen said.
Meanwhile, county officials said they are moving forward with plans to improve the safety of the rural road system between Hana and Ulupalakua.
Construction is expected to start in February on the $2.5 million permanent bridge replacement at Paihi between Kipahulu and Hana, where a temporary bridge has been in operation.
A contractor is scheduled to complete the $1.3 million project to install wire netting along the slopes near the Maunawainui Bridge sometime in November or December, the county said.
County officials are awaiting federal approval for $1.8 million to repair roads near Kalepa that were undermined and to proceed with work to improve safety conditions at the sea cliffs at Kalepa and Alelele.
Work on the undermined road is expected to take 60 days, and the sea cliffs work at Kalepa and Alelele about six to nine months, the county said.
Domen said two families have moved out of Kaupo, but hers plans to stay.
"It's not as bad as some people on this planet have it," she said. "It's just hard right now, but we're not losing our lives on it. We're going to get through it."