---
FAST FACTS HAWAII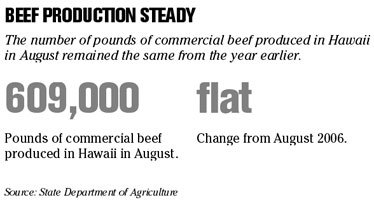 ---
NATION
EBay posts rare quarterly loss
SAN FRANCISCO »
EBay Inc.
reported yesterday a third-quarter net loss of more than $936 million -- a rare plunge into the red for the e-commerce juggernaut caused by previously announced charges to its Skype telecommunications division.
But San Jose-based eBay still easily exceeded Wall Street's expectations for the quarter ended Sept. 30, thanks to record revenue of $1.89 billion, up 30 percent from the year-ago quarter.
Including the Skype charges, eBay lost $936.6 million, or 69 cents per share in the third quarter. In the year-ago quarter, the online auction company earned $280.9 million, or 20 cents per share.
GMAC Financial to cut 3,000 jobs
MINNEAPOLIS »
GMAC Financial Services
said on yesterday it would cut about 3,000 jobs, or 25 percent of the work force at its
Residential Capital LLC
mortgage operation.
It blamed the cuts on "sharp downturns in the U.S. residential real estate markets and the global dislocation of the mortgage finance and credit markets."
ResCap employs about 12,000 people after cutting 2,000 jobs earlier this year.
The company said the largest job cuts would happen in business units most affected by the drop-off in mortgage originations.
Sprint faces off with iPhone
NEW YORK »
Sprint Nextel Corp.
, seeking to compete with
Apple Inc.
's iPhone, introduced a touch-screen handset, above, that can download music and play video.
The Touch phone, made by High Tech Computer Corp. of Taoyuan, Taiwan, also has a Web browser and can send e-mail. It will go on sale Nov. 4, Reston, Virginia-based Sprint said.
Sprint, the third-biggest U.S. mobile-phone service, is offering music devices such as the Touch and Samsung Electronics Co.'s UpStage to win back customers from larger rivals Verizon Wireless and AT&T Inc.
WORLD
Airbus military plane delayed
PARIS >> EADS announced yesterday that slow progress in developing the engine for the Airbus A400M will cause at least a six-month delay in deliveries of the military transport plane.
The confirmation of the delay at EADS, the parent of Airbus, comes as the first of the European plane maker's A380 superjumbos landed in Singapore yesterday, more than a year behind schedule.
"A400M deliveries are now expected to start six months later than initially planned with a risk of a further slippage of up to a half year," EADS said in a statement.
BRIEF CASE
ACCEPTING HELP:
Apple Inc.
said yesterday it will allow third-party applications on the iPhone, a turnaround from its previous policy of controlling what programs run on the device. Apple intends to release a software development kit in February.
[ HAWAII INC. ]
Board elections
» The International Executives Association has reelected
Jack Schneider
as president at the organization's annual conference in Calgary, Alberta, Canada. He is president of JS Services in Honolulu.
» The Hawaii Automobile Dealers Association announced its officers and directors for 2008 at the association's 48th annual convention at the Hapuna Beach Resort: Wayne De Luz, president; Stan Masamitsu, president-elect; Nick Cutter, vice president; Joe Nicolai, secretary; Ron Hansen, treasurer; Oahu directors Bill van den Hurk, Morrie Stoebner and Jack Jackson; at-large directors Dennis Short and Dave Chun; Eric Fukunaga, immediate past president; James Hanley, Kauai director; Jerry Cousin, Hawaii director; Damien Farias, Maui director; and Joe Hanley, NADA representative.
AWARDS / CERTIFICATIONS
» Kober Hanssen Mitchell Architects has awarded
Duane Uchida
with the Leadership in Energy and Environmental Design certification in architecture. The LEED certification promotes the design, construction and operation of high-performance green buildings, recognizing performance in sustainable site development, water savings, energy efficiency, materials selection and indoor environmental quality. Uchida is a project designer for the firm's architecture clients and helped found the firm's Vision Studios business unit.
---
BUSINESS PULSE