Height boost sought for Hawaii Kai condo project
The Hawaii Kai luxury condominium project could jump to 90 feet
STORY SUMMARY »
The fate of Hale Alii, a $200 million luxury condominium project on one of the last developable parcels available in Hawaii Kai, hinges on a vote tomorrow in the Honolulu City Council.
21st Century Homes Inc. wants to build two 90-foot tall buildings at the corner of Hawaii Kai Drive and Keahole Street, where limits range from 40 to 60 feet.
Some say the increased height will help by leaving more open space at street level. But others say it will block views, and still others are concerned about a Hawaiian archeological site and nearby wetlands.
---
FULL STORY »
Honolulu City Council is set tomorrow to determine the future of a luxury condominium project in Hawaii Kai on one of the last developable parcels in the neighborhood.
Developer 21st Century Homes Inc. is seeking to rezone 3.8 acres at the corner of Hawaii Kai Drive and Keahole Street into an apartment district with a 90-foot instead of a 40- and 60-foot height limit.
Height limit vote
Bill 47 is scheduled for a vote tomorrow in the Honolulu City Council. The measure would rezone the site of the planned Hale Alii condominium in Hawaii Kai from a medium density apartment district (with 40 and 60-foot height limits) to A-2 (with 90-foot height limit).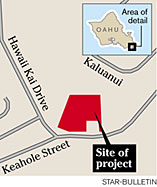 The project -- Hale Alii -- is expected to offer about 300 units with tiered buildings, underground parking, a courtyard and a putting green targeting high-end buyers.
But the project has encountered controversy. A vocal group of Hawaii Kai residents are opposed to any new developments in the neighborhood, particularly with a height change. Yet another group is concerned about a nearby archeological site and wetlands.
But others they prefer the taller design, which would result in a less boxy appearance and more generous setback from the road than an earlier proposal.
Hawaii Kai resident Arla Harvey, said the new, 90-foot-tall design would make Hawaii Kai Drive seem less like an urban canyon. Other supporters said they liked the taller height for aesthetic reasons, as long as the number of units remained the same.
Proponents of smart growth in urban areas typically support taller developments that leave more open space at the ground level. But the question is whether or not Hawaii Kai has yet become a dense, urban area.
The developer is including a unilateral agreement which details conditions for the development, such as an open courtyard both in the front and back, and a 40-foot distance between Hale Alii and Moana Kai, the complex behind it. That includes a five-foot landscape buffer lined with trees and palms.
Mike Klein, marketing manager for 21st Century Homes, said he believed the agreement, based on input from the community, had reached a happy medium.
Over the years, the height limits allowed on Hawaii Kai Drive have gone up and down -- from 150 feet at the time 21st Century bought the site to 60 feet in 2002 in response to community concerns. Thus, driving mauka, the skyline is lower, with new townhome projects like D.R. Horton Schuler Division's Moana Kai and Nanea Kai.
Klein is also the founder of a non-profit group that developed Kaluanui Senior Apartments in Hawaii Kai several years ago. About a third of Hale Alii is expected to be set aside as affordable rentals.
Opposition to the new project, however, comes from two sides.
The residents at Moana Kai oppose Hale Alii because it would block their views and increase traffic. Others said they opposed "spot zoning" during a review of the East Honolulu Sustainable Communities plan.
Bruce Schneider, board president of the Moana Kai Homeowners Association, said 90 feet is just too tall and inconsistent with the rest of the area, pinning Moana Kai between it and the ridge. He said a 40-foot tall project, or another town home project, would be more tolerable.
Another group, the Livable Hawaii Kai Hui, said it has concerns about an ancient Hawaiian site slated to become a private recreational park.
Chris Cramer, speaking on behalf of Hui, said he's particularly concerned about preserving the history of the area as well as nearby wetlands. On a preliminary site map, he said developers appear to have a swimming pool right next to the archeological site
The Hawea heiau and an ancient fishing village both were formerly found in the project's vicinity, said Cramer, which he believes contains an old well, numerous petroglyphs, rock structures and an ancient grove of coconut trees.
Three separate archaeological reports were conducted on the site -- in 1985, 1993 and 1994.
Klein said 21st Century will be commissioning its own archaeological inventory survey, and will be working with the state historic preservation division, which visited the site earlier this month.
State archaeologist Teresa Davan said she was unable to make any identifications due to dense vegetation growth, but that the developer has been cooperative, and has agreed to do another survey.