---
FAST FACTS HAWAII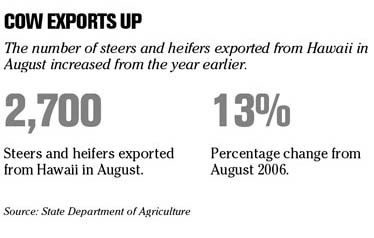 ---
HAWAII
Cyanotech launches products
Cyanotech Corp.
has added two products to its Nutrex Hawaii product line, the company said yesterday.
The Kona-based producer of nutritional products rolled out CardioAstin, which helps support a healthy cardiovascular system, and JointAstin, which uses vegetable-based Glucosamine to strengthen and support joints and tendons. It is the first completely vegetarian joint formula on the market, the company said.
Cyanotech has also been awarded Good Manufacturing Practices certification from the Natural Products Association.
"This official GMP certification confirms that we follow strict quality guidelines," CEO Gerald Cysewski said in a statement.
Molokai Ranch completes EIS
Molokai Ranch
has completed the final Environmental Impact Statement for its Laau Point luxury housing project. The state Land Use Commission has scheduled a hearing on the document Nov. 15-16.
If the 3,000-page EIS is approved, Molokai Ranch will ask the commission to reclassify its lands at Laau Point from agricultural to rural so that the company can move forward on its proposal to build a 200-home subdivision. In addition, the company would seek to reclassify an additional area to create two public parks and a protected historic site.
The report can be reviewed at the Molokai public library, the Molokai Ranch office in Maunaloa, and at the OHA office in Kalamaula. It can also be downloaded from the state LUC Web site: http://luc.state.hi.us/dockets/a06764molokai/a06764deis.pdf.
Hawaiian Airlines hires new exec
Hawaiian Airlines
has hired Charles Nardello as senior vice president of operations, the company said yesterday. The position was previously held by Norm Davies, who retired in July.
In February, Hawaiian had named former Federal Aviation Administration official Russell Chew as executive vice president of operations to replace Davies, but the following month Chew decided on a position at JetBlue Airways instead.
Nardello will oversee the daily operation of departments including maintenance and engineering, customer service, cargo, flight operations and safety and security. He joined Hawaiian in February 2004 and served as vice president of maintenance and engineering.
WORLD
AIR DELIVERY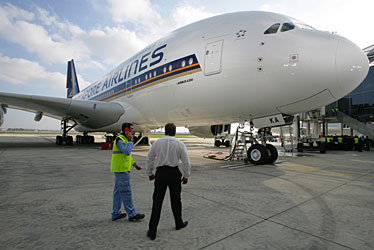 BRIEF CASE
NOT PLAYING WELL:
Mattel Inc. yesterday reported a 1 percent drop in fiscal third-quarter profit, due to the impact of charges, costs and supply chain delays related to multiple product recalls by the world's biggest toy maker. Sales rose 3 percent to $1.84 billion from a year ago, mainly helped by the weaker dollar.
JOB CUTS: AOL is cutting its global work force by an additional 2,000 jobs as it continues a transition from Internet access provider to online advertising company.
MORTGAGE WOES: Citigroup Inc. said yesterday its third-quarter profit dropped 57 percent after the biggest U.S. bank took a hit of more than $3 billion in mortgage-backed security losses, leveraged debt write-downs, and fixed-income trading losses.
---
BUSINESS PULSE