Divers find teen's body
Fire crews recover a boy who perished while snorkeling off Kaaawa Beach Park
A 16-year-old Kailua High School student who was reported missing Saturday while he was snorkeling off Kaaawa Beach Park was found dead yesterday.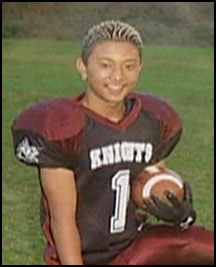 Fire Department divers found the body at 3:10 p.m. on the ocean floor in about 30 feet of water between the first and second reefs off Kaaawa Beach Park, said Battalion Chief Jim Skellington. His body was found in the same area where he was reported missing, he said.
Skellington said the area has a strong current.
"You should be experienced to be out there," he said.
There are no lifeguard stations in that area.
A fire rescue helicopter airlifted the teenager to Kaaawa Elementary School, where about 50 friends and family members gathered to mourn.
Friends at the scene identified the teen as Cory Kimo Aiwohi and remembered him as a popular teenager with friends at Kailua and Castle high schools.
"He's going to be missed. He really is a good kid," said Kehau Kahanu, 23, whose younger brother Kekoa was friends with Aiwohi. "Reality didn't kick in. It doesn't seem real."
Kahanu said Aiwohi was not a regular swimmer, but played football and would often train.
"He never used to go to the beach," she said. "He's always at the gym with his dad."
Aiwohi grew up in Kailua and transferred from Castle High School to Kailua High School this year to be with friends, friends and family said.
"He's a real fun guy and likes to live life to the fullest," said Castle junior Nyse Barboza.
Micah Paulo, a Castle High School junior, played football with Aiwohi on Castle's junior varsity football team.
"That's like my brother," he said. "We were always together."
Paulo said Aiwohi wanted to play football at a school in California after graduation.
Aiwohi's uncle Curtis Aiwohi, a Kakaako firefighter, said the family helped emergency crews search during the night and through the day, walking the beaches and using a boat.
The family was doing OK after having prepared for the loss from the day before, Aiwohi said.
Firefighters said the teen was swimming and diving with three friends Saturday when the friends lost sight of him. They called emergency officials after returning to shore at about 4:10 p.m.
The Coast Guard joined firefighters in the search at about 5:30 p.m., and a rescue helicopter searched overnight, said Coast Guard spokeswoman Angela Henderson.
Firefighters resumed their search at 6:30 a.m., Skellington said.
Kaaawa residents also helped. Cyrus Jones donned his fins and directed rescue crews to different fishing spots in the area. He said he swam through the night and the next day. His feet were swollen yesterday with blisters from the fins.
"I'm kind of drained," he said, adding that his best friend had died in the same area about 10 years ago.
One of Aiwohi's friends who had been swimming with him Saturday said it was Aiwohi's first time snorkeling in the area. The friend, who only gave his first name, Chris, said he had snorkeled several times in that area and that they were checking out the water.
Aiwohi is survived by seven sisters, one brother, his parents and extended family.