Stabber slays bar waitress in Kalihi
The suspect also dies in what witnesses say was a murder-suicide
A hostess bar patron apparently became obsessed with one of the employees before he stabbed her to death in an after-hours encounter, the victim's employer and roommate say.
Chong Suk Waraksa, 41, a waitress, was stabbed multiple times early yesterday morning in front of Kaumualii Park apartments in Kalihi.
The suspect, 42, a frequent customer, was later found dead on Salt Lake Boulevard after apparently crashing his pickup truck into a retaining wall. Police are not looking for any other suspects.
"She says he's nice guy but little bit funny kind," said Waraksa's roommate, Yong Sun McIlvaine. "Second day, he already say, 'Yobo, I love you.' Every day, calling, calling, calling."
"He turned out to be a monster," she said.
The city Medical Examiner's Office did not release the identity of the woman or her killer yesterday. McIlvaine told a reporter that the victim was Waraksa, the wife of a Marine stationed in Seoul.
She had returned to Hawaii a month ago to sell their Ewa Beach home, said McIlvaine, who has known her for three years.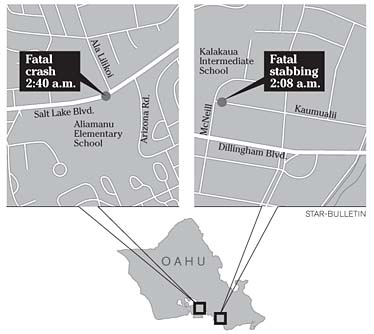 ---
Waraksa's boss, owner of the Black Stallion Lounge on Kohou Street, said the customer had come in and seen her about five to six times before Monday night. That night he had two beers and two green teas, along with lots of food.
"He left happy," she said. "Then, couple hours later, it happened."
The owner, who gave only her nickname, Sandy, described the customer as "very quiet," adding, "He hardly talked."
"Maybe he became obsessed," she said.
At about 2 a.m. yesterday, Waraksa went downstairs to meet the customer, who said he had a gift for her, McIlvaine said.
The man got out of his truck and put his arm around Waraksa's neck, said McIlvaine, who accompanied her. "I thought they were hugging, and I look down and see the knife."
The man initially took a stab at Waraksa, but she pulled back, McIlvaine said. The two women then grabbed his arm, unsuccessfully trying to restrain him.
The man held onto Waraksa's neck with one arm, dragging her the length of his truck and stabbing her six times in the chest and abdomen, McIlvaine said.
McIlvaine is haunted by memories of the attack and wonders if she could have saved her friend had she done something different. She helped Waraksa to the security gate, where she collapsed.
"I told her, 'Chong, don't die on me. The ambulance is coming soon,'" McIlvaine said.
The last word she spoke was "onni" -- older sister, McIlvaine said.
Waraksa was taken by ambulance to the Queen's Medical Center, where she died, said a spokesman for the Emergency Services Department.
Witnesses said the man sped off in a white truck. About 2:40 a.m., witnesses reported a man crashed a white truck into a retaining wall at 3225 Salt Lake Blvd., across the intersection with Ala Lilikoi Street.
Police said witnesses saw the driver back up at the intersection before ramming his truck into the retaining wall.
"Patrol units, based on information they got from the murder scene, determined it was the suspect," said Lt. Bill Kato of the Honolulu Police Department's homicide detail. "It was pretty bad. The full front end was demolished."
The suspect was dead at the scene. A knife was recovered in his truck. However, Kato said forensic tests need to be performed to determine whether it is the knife used in the stabbing.