Missing man pains kin
Paulette Caravallo has been living a mother's worst nightmare.
Today marks the third year that her son, Gilbert Paul Caravallo, has been missing.
Web site accepts tips
» Gilbert Caravallo is 6 feet, 220 pounds, with black hair and brown eyes. He would be 38 years old. He has "Gilbert C" tattooed on his back and a wizard tattoo on his right upper arm. He was last seen in the Aiea, Pearlridge and Pearl City area.

» The Caravallo family has set up a Web site, www.findgilbert.com, which has photos of Caravallo, who has been missing since Oct. 6, 2004.

» The family is offering a $20,000 reward to anyone with information that solves the case. Family contact information is available on the Web site. Tips also can be sent anonymously on the site.
He lived with his mother in Pearl City. On Oct. 6, 2004, she was cooking breakfast, and he helped to make some potatoes. After breakfast she left for work, and that was the last time she saw her then 35-year-old son.
"Believe it or not, it's even worse than death, not to have closure," the 59-year-old mother said yesterday. "I just keep thinking that maybe one day he'll pop in, but in my heart I know that's impossible."
Today the family makes its annual visit to the Royal Summit Trail in Waiau, where Caravallo loved to hike. Each visit has gotten harder to bear.
"It's just been this ache, it's so hard to describe," his mother said. "I guess this week is the hardest for me. We live on an island. How could somebody just vanish?"
In the afternoon of Oct. 6, 2004, a friend came to the house, and he and Caravallo walked to the store. Another friend picked the two of them up, and after going to the store they returned home. The first friend left Caravallo and the driver alone.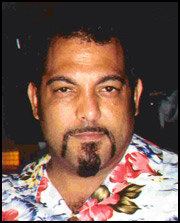 The family questioned the driver, who initially claimed he did not see Caravallo. He later said he dropped him off at the house, claiming he forgot, according to the family.
"That's our only lead and that's where it ends," said Caravallo's sister, 27-year-old Jonette Lui. "The police questioned him, he denies it (involvement in the disappearance) and I guess there's nothing we can do about it."
Lui said the family has tried to do their own investigation, but to no avail. There are no other witnesses. She and her mother fought tears as they described their frustration.
Caravallo was charged with reckless endangerment for shooting a firearm at the Royal Summit Trail. The family said he was only expected to pay a fine and was willing to go to court.
"He didn't even have a bank account," Jonette said. "He didn't have the means to pack up and move elsewhere. He left his only ID at home."
Detective Philip Camero, a Honolulu Police Department missing-persons investigator, said the case is still open and there have been no developments. Foul play has not been ruled out.
"I wish we could resolve this case, along with all of our missing-persons cases," Camero said, "not only for the victim, but for the family as well."
The family has tried to cope with the loss and lack of closure in different ways. Another sister, Janey Lee in California, penned a book titled "Gilbert C: Hurry Home! I Just Want to Say I Love You," which was published this year.
In it she writes about the emotional limbo the family has gone through, as well as the futile search efforts.
"Before it was almost where my behavior became sort of self-destructive," Lee, 34, said. "I woke up one morning in May with this burning desire to write a book. With the grace of God, I was able to do so in two months."
Lee said she hopes the book will offer some support to families going through similar situations.
Paulette Caravallo said she focuses on her work as a bartender at Henry Loui's Restaurant. She hopes that the community does not forget about her son, even though he is an adult.
"There are a lot of adults out there that people have no clue what happened to them," she said. "Everybody talks about the young ones, of course. People have to understand that no matter how old you are, there are people who love you."