Coldwell real estate magazine debuts
Coldwell Banker Pacific Properties and the Honolulu Star-Bulletin/MidWeek advertising depart- ment have teamed up to produce a full-color glossy real estate magazine, which will be available at 143 locations and circulate to 35,000 readers.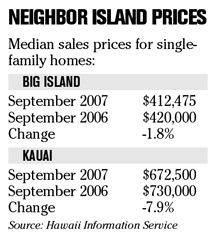 The first issue of Island Homes Collection, which will replace Coldwell Banker Pacific Properties' previous magazine, the Buyer's Guide, was released yesterday at a gala party at the nightclub Pearl. The free-distribution magazine will be published bi-monthly.
Coldwell Banker Pacific Properties decided to revamp its print product to make it more appealing to a greater mix of readers, to enhance the content and to find an innovative way to maintain listings, said Chason Ishii, president of Coldwell Banker Pacific Properties.
Island Homes Collection will offer readers neighborhood highlights, featured properties, and local celebrity home profiles. The magazine, which is 17 percent larger than its predecessor, will deliver a full list of homes for sale with added reader features.
"With the improved look, style, and content, Island Homes Collection will be a highly sought-after magazine among potential home buyers," Ishii said.
Glenn Zuehls, vice president of advertising for the Star-Bulletin and Midweek, said working with Coldwell provided a great opportunity to take real estate advertising to the next level.
"They were open to innovation and embraced every new idea," Zuehls said.
The first publication, which is expected to hit racks this week, will focus on Diamond Head and Kailua.