---
FAST FACTS HAWAII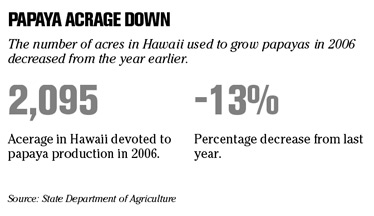 ---
HAWAII
Realtors tie in with Google
Hawaii homes listed by Honolulu Board of Realtors members will now be accessible via
Google
.
Google Base, at http://base.google.com, is an online database containing many types of listings, including real estate.
The service gives Realtors on Oahu another way to market their listings, said Rochelle Lee Gregson, chief executive officer of the Honolulu Board of Realtors.
"We are well aware that more and more potential homebuyers are turning to the Internet to conduct their research," Gregson said.
Google Base users can search for Honolulu real estate by criteria including zip codes, price ranges and numbers of bedrooms and bathrooms. Links on the site will direct users to www.HiCentral.com, the HBR Web site, so that they can get more information about the properties.
NATION
Auto industry appeals ruling
WASHINGTON » Automakers yesterday said they would appeal a ruling by a federal judge in Vermont that said states could regulate greenhouse gas emissions from vehicles.
The industry, represented by the Alliance of Automobile Manufacturers, has argued that federal law pre-empts state rules in the regulation of fuel economy standards and the technology cannot be developed to meet the tough standards pushed by California and others.
Dave McCurdy, president and chief executive of the Alliance of Automobile Manufactures, said the appeal was "urgent" because the regulations applied to 2009 model year vehicles, which will begin to appear in showrooms early next year.
American Home unit bought
NEW YORK » Wilbur L. Ross Jr., who became a billionaire by investing in failed steel and textile companies, won the bidding for the loan-servicing unit of bankrupt
American Home Mortgage Investment Corp.
with a $435 million offer.
Ross, 69, is betting on a rebound in the mortgage industry after at least 16 lenders, including American Home, collapsed when investors refused to buy loans they made to borrowers with poor credit.
American Home canceled an auction because no higher offers were received before scheduled bidding today, creditor lawyer Mark aIndelicato said. That left Ross, the so-called stalking horse bidder, as the winner.
WORLD
Airbus chief denies insider trading
PARIS » Airbus Chief Executive Thomas Enders has denied allegations of insider trading stemming from the sale of shares in parent company EADS amid problems with the A380 superjumbo.
In a letter sent late Thursday to Airbus employees, Enders said that when he exercised stock options in November 2005, "there was no reason to believe it would be improper." The Associated Press obtained a copy of the letter yesterday.
A preliminary report by the French Financial Markets Authority, or AMF, suggests there was "massive insider trading" at European Aeronautic Defence & Space Co. The report, sent to Paris prosecutors, was based on a lengthy probe of share sales between November 2005 and March 2006 by 21 top managers.
---
BUSINESS PULSE