Cash filched, fish fresh
Police are looking for a Kapahulu bank robber who fled in a stolen refrigerated fish van, then abandoned it but left the motor running and the fish fresh.
Shortly before 10:45 yesterday morning, the suspect allegedly stole a Fresh Island Fish Co. delivery van parked in the delivery lane in front of Sam Choy's Diamond Head Restaurant on Kapahulu Avenue.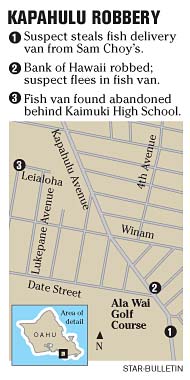 Minutes later, police said, the suspect entered the Bank of Hawaii down the street and demanded money at knifepoint. He then fled in the van with an undisclosed amount of cash.
At the scene was a Honolulu Police Department parking enforcement officer, who witnesses said called 911. The van was found abandoned and still running about 11:20 a.m. some five blocks away on Leialoha Avenue.
Witness Jose Cesneros, who stood a few feet behind the suspect and was waiting to make a transaction, said the suspect wore a blue cap or bandanna, a white long-sleeve shirt, jeans and dark sunglasses.
Witnesses described the suspect to be in his 30s or 40s, and said he was wearing tennis shoes. Police also are looking at surveillance footage from the bank and at the complex that houses Sam Choy's.
Cesneros said the suspect approached a teller, who was tending to the police parking officer, and demanded money.
"She said, 'You gotta be kidding, I'm with the police,'" Cesneros said. "I heard the robber saying, 'Just get out of my way.' He was calm about it."
The suspect then went behind the counter and went to another counter to pull money from a drawer, then left. A witness saw the suspect leave in a fish van.
When the van was stolen, the driver was following company protocol to keep the engine running, said Mike Lee, president of Fresh Island Fish. The van is refrigerated, and had about 200 pounds, or $1,500 worth, of fish.
"It was en route to be delivered to Waikiki restaurants," Lee said. "I hope they catch him, and it's fortunate that no one was hurt."
Neither were the fish, he said. The van also was left running when it was found abandoned behind Kaimuki High School. The fish eventually were delivered.
"The integrity of the fish was maintained," Lee said.