Bomb Birthday 7 and Jimmy Da Geek back at Pipeline
TICKETS GO on sale Saturday for a pair of upcoming concerts at Pipeline Cafe. First up is "Bomb Birthday 7," an annual celebration hosted by radio station
102.7 Da Bomb
(full disclosure: This columnist does periodic on-air work for the company that owns the station). Along with prize giveaways throughout the night, the party will also feature live performances by
Pitbull
and
Che'nelle
; Bermuda's
Collie Buddz
will also make his second trip to the islands to be part of the show.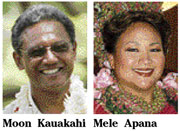 But I'm most excited about the return of James "Jimmy Da Geek" Bender -- anyone in their late 20s to mid-30s should recognize this founding member of the 3 Local Boyz. After co-writing joints like "Rice Rice Baybee," "I'm a Filipino" and "Killa Wiffa (Somebody Farted)" with Lanai Tabura and Alan Oda back in the '90s, Bender returned to local airwaves this summer as a solo artist with his parodies "Talk Like a Pinoy" and "Local Girls."
Tickets will also be available Saturday for a Nov. 16 show with Bad Religion. A limited number of $75 VIP tickets will be on sale, with general admission access available for $28. "Bomb Birthday 7" tickets will be priced at $25 ...
WEEKEND PICKS: The 86 List celebrate eight years together with an anniversary bash on Friday at Anna Bannana's. There's no cover for the 18-and-over party, which also features performances by the Hell Caminos, Golfcart Rebellion and Mass Descent ... DJ Vegas Mike teams with SMART Magazine to present the new "Acid Wash Saturday Special" at NextDoor on Saturday. Fans of '80s music who can't make it to "Acid Wash Wednesdays" now have a chance to see what the buzz is about, and there's still no cover charge ... Ryan's Grill presents a fundraiser for the family of Person Waguk, a line cook at the restaurant who was killed in a pedestrian accident on Aug. 30. Rebel Souljaz will perform, with a $25 donation getting you two drinks and a pupu buffet. All proceeds will go to Waguk's wife and four young keiki ...
IT'S BEEN quite a month for the Makaha Sons.
First, Moon Kauakahi got married Sept. 7, exchanging vows with Kyoko Yamamoto during a beachside ceremony at the Sheraton Waikiki Hotel. Kawika Kahiapo officiated, with the reception attended by friends and family including Robert Cazimero, Cyril Pahinui, Keali'i Reichel, Sean Na'auao, Robi Kahakalau and Manu Boyd.
Shortly afterward, the Sons (joined by Hoku Zuttermeister and Ioane Burns) departed for an East Coast tour, with dates scheduled this week in New York and Pennsylvania. But it was their gig last Sunday that left a lasting impression -- dressed in New England Patriots jerseys and wearing orchid lei, the five musicians serenaded nearly 70,000 football fans with their rendition of "The Star-Spangled Banner."
Your next chance to congratulate Uncle Moon on his marriage is Oct. 4, when the Sons host an benefit concert for their nonprofit Makaha Sons Foundation at Sam Choy's BLC. They'll play from 5:30 to 8:30 p.m. with heavy pupus and no-host cocktails available.
Tickets for the event are $100 ($80 tax-deductible); call 536-0545 ...
CONGRATS TO Mele "Mento Mele" Apana, who recently joined Clear Channel Hawaii as promotions director for radio stations Hot 93.9 and Island 98.5.
I got a chance to see Apana on Sept. 15, when I emceed the annual Aloha Festivals Floral Parade with Mahlon Moore in front of the Outrigger Waikiki on the Beach. You can imagine my surprise when the kolohe girl I know was replaced by a beautiful and elegant pa'u princess proudly representing the island of Maui!
She was joined on horseback by Boy Apana, Shelly Leslie, Renee Kamana'o, Sam Kepo'o, Ho'o Apo and Bruce Watson.
The parade's judges were impressed, too, because they named Apana Best Princess and awarded her unit the Governor's Award. Even her pooper scooper team got some shine, taking home the prize for "Most Original" ...