---
FAST FACTS HAWAII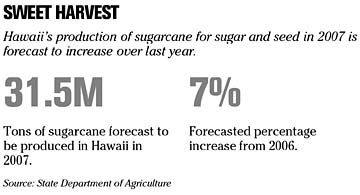 ---
HAWAII
Wahiawa apartments sold A private equity real estate investment firm from California has acquired a 106-unit apartment complex in Wahiawa.
Somera Capital Management LLC and Whisper Capital Partners bought the Palms of Kilani on Aug. 22 for $19.3 million from an affiliate of the Irvine, Calif.-based Bascom Group.
The sale includes an eight-story high-rise tower and two low-rise buildings. The complex is three years into a four-year renovation program to the rental units and grounds.
The company, which sold the Queen Kaahumanu Center on Maui last year, said it is actively looking to acquire more multi-family properties on Oahu.
NATION
Mortgage rates rise again WASHINGTON » Rates on 30-year mortgages rose for a second straight week, a sharp rebound after hitting a four-month low.
Freddie Mac, the mortgage company, reported yesterday that 30-year, fixed-rate mortgages averaged 6.42 percent this week, up from 6.34 percent last week. A year ago, 30-year mortgages stood at 6.31 percent
Rates on 15-year fixed-rate mortgages, averaged 6.09 percent this week, up from 5.98 percent last week. Rates on five-year adjustable rate mortgages averaged 6.15 percent, down from 6.21 percent last week. One-year ARMs averaged 5.60 percent, down from 5.65 percent.
WORLD
British Airways splits plane order PARIS » British Airways announced an overhaul of its aged and fuel-guzzling fleet of long-haul jets yesterday, placing orders for the latest generation of Airbus and Boeing planes valued at more than $8 billion.
The order signals a strong vote of confidence in Airbus' troubled A380 superjumbo, which has experienced costly manufacturing problems and is scheduled to enter service with Singapore Airlines next month, two years behind schedule. It is the first order for the A380 by a new customer since 2005.
The deals are the airline's largest investment in new planes since 1998 and form the first step of a plan to revamp its entire fleet of 114 long-haul jets over the next several years.
BRIEF CASE
Record IPO.
China Shenhua Energy Co., the country's biggest coal miner, has raised 66.6 billion yuan ($8.9 billion) in its Shanghai initial public offering, a record for a mainland IPO.
Still searching. Microsoft Corp., the No. 3 Web search provider in the U.S., is rolling out changes to its search engine aimed at narrowing the gap between it and market leader Google Inc.
Suspicious payments. An internal corruption investigation at industrial conglomerate Siemens AG has uncovered about $2.3 billion in suspicious payments, four times the previous estimate disclosed by the company.
Cutting miles. A firm with a sizable stake in American Airlines' parent is pushing the carrier to cut loose its frequent flyer program to boost returns to investors.
---
BUSINESS PULSE