KONA: JUDGE UPHOLDS CONDEMNATION
IN HOKULIA PROJECT
Highway gets land
CAPTAIN COOK, Hawaii » A court ruling in a Kona land case this week will allow the developer of the luxury Hokulia residential project to resume building a regional highway.
On Tuesday, Circuit Judge Ronald Ibarra ruled that Hawaii County used proper procedures in 2005 to condemn about 3.35 acres in a tract known as the Coupe property. Members of the Coupe and Richards families had contested the action.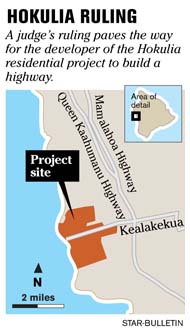 The land is needed to complete a 5.5-mile highway to bypass part of narrow, congested Mamalahoa Highway.
Developer 1250 Oceanside Partners has already built part of the highway across its own 1,550-acre property, but an agreement with the county requires it to complete the highway across the Coupe property.
Ibarra ruled that the county must pay about $162,000 for the land plus about $30,000 in interest for the time the case has been in court.
In a related 2000 case, Ibarra ruled that the county illegally tried at first to give its condemnation power to Oceanside. For the cloud that cast over the property, the county must pay about $60,000.
Attorney Kenneth Kupchak, who represented the Coupe and Richards families, called Ibarra's decisions a victory. The county cannot transfer its condemnation power to a private company, Ibarra ruled.
The judge also ruled that the landowners do not have to pay the county or Oceanside for the value of the highway across their land, Kupchak said.
"It didn't seem right that the county could agree to allow Hokulia to take our property for Hokulia's road and then pass back the cost of the road to us," said Richards family spokesman Charles Coupe.
County attorney Joseph Kamelamela said the families might have to pay the county in the future if the County Council passes a law requiring "fair share" payments and if the families ever want to rezone their land.
"The real victory is getting the road through," he said.
The Hokulia project was held up for several years by a different lawsuit dealing with improper use of agricultural land. That was settled last year by an agreement that Oceanside would seek "rural" land designation and would pay at least $50 million in community benefits.