Ready to La Rhumba
A Chinatown restaurateur readies for his latest venture with a Caribbean flare
STORY SUMMARY »
The transformation of a seedy stretch of Hotel Street continues apace with the arrival of La Rhumba, the latest venture by Chinatown restaurateur Dave Stewart.
Stewart, who also started Indigo Eurasian Cuisine, Bar 35 and Du Vin within blocks of one another, says this latest venture will be a fun and casual Caribbean eatery, offering lunch, dinner, and nightlife.
He's pouring more than $500,000 into restoring the 4,500-square-foot space at 32 N. Hotel St. to its former glory.
At the same time, due to frustration with a lease dispute, he's sold his one-third ownership of Indigo to partner and chef Glenn Chu and another investor.
STAR-BULLETIN
---
FULL STORY »
With three other Chinatown restaurants under his belt, restaurateur Dave Stewart is ready to open a new venture -- this one called La Rhumba.
The Caribbean-inspired restaurant and bar is slated to open at 32 N. Hotel St., across from his other venture, Bar 35, hopefully by early next year.
It would be Stewart's fourth venture, although a few weeks ago he sold off his one-third ownership of Indigo Eurasian Cuisine to partner Glenn Chu and another investor.
"Hotel Street used to be the exciting street in Honolulu," said Stewart. "It had the neon strip bars and the swing clubs ... We want to get it back to what it was."
When Stewart walks into an empty space, he gets an idea of what would go into it.
The future La Rhumba was formerly home to several other clubs, including the Tradewinds Bar, as well as an adult video store. Outside, there is a high awning and neon sign, reminiscent of its colorful past.
Stewart is pouring at least half a million dollars into the 4,500-square-foot brick and high-ceiling interior, restoring it to its former glory with an outdoor courtyard, wraparound bar, and a stage for musicians and dancing.
When he embarked on Indigo nearly 14 years ago, Chinatown was his first place of choice to do business because of its history and character -- there's no other neighborhood like it in Honolulu, according to Stewart.
"It's the only real neighborhood in this whole city," he said.
Sitting at one of the tables by the sidewalk at Du Vin, Stewart's newest addition across from the Hawaii Theatre, he said people walk by and stop to chat.
Du Vin is supposed to be that kind of neighborhood French-style brasserie, where people can drop in for a glass of wine, some food, and hang out.
"This was a no-brainer, to do French," said Stewart, who lived in France and loves the food.
Bar 35, a pizza restaurant and beer garden which opened two years ago, and Du Vin, are both doing well, he sad. So when another space opened up, he decided to pursue the opportunity.
"It's not easy to find these locations because they don't come on the market very often," he said.
---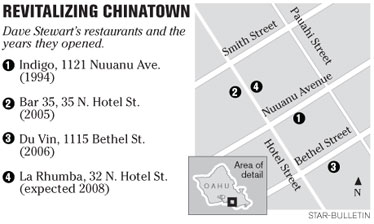 ---
With La Rhumba, he hopes to attract a casual crowd with a menu of Caribbean fare, including rotisserie chicken, smoked fish, fresh fruit salsas and tropical drinks at a reasonable price.
It will be open for lunch and dinner, along with a takeout menu. After dark, it will become another option for downtown Honolulu's nightlife.
"It will be a very happy place," he said.
When he opens a new restaurant concept, Stewart said it's as simple as bringing in something that he likes himself, as well as giving people more options.
The native New Zealander recently went on his first trip to Jamaica to get some ideas, and to absorb the culture, colors and textures.
But Stewart thinks this will be his last venture in Chinatown, simply because: "We've run out of space."
Chinatown can only undergo a renaissance if building owners decide to fix up some of the derelict, boarded-up spaces, he said, or agree to lease them out to businesses.
Christy Vicari-Coito of Hotel Street Properties LLC is leasing the La Rhumba space to Stewart.
Her goal was to transform the street from its once-seedy reputation to a part of the new arts and culture district.
Some of the spaces during the last two years have gone to younger entrepreneurs, like Next Door, the new independent cinema lounge, while others have gone to more seasoned business owners, like Stewart.
The transformation of Hotel Street is half under way -- with newcomers, including INTO, an upscale boutique sandwiched between Indochine Cafe and the up-and-coming La Rhumba.
Across the street, there's Bar 35 along with thirtyninehotel upstairs and Next Door.
New businesses exist side by side with old-timers like the Smith's Union Bar and Amy's Place.
A boarded-up Club Hubba Hubba, with its faded, no-longer-lit neon sign, however, sits empty and unchanged.
That stretch of Hotel Street has been cleaned up of drug dealers, and it has become a lot safer, according to Vicari-Coito. She's hoping the new restaurant also will bring a lunchtime crowd.
The other challenge in Chinatown is bringing in a critical mass on days other than the increasingly popular First Friday.
Chinatown restaurants have been losing patrons to Waikiki's renaissance, according to Stewart, estimating up to a 25 percent loss to Outrigger's new Beach Walk.
Chinatown is still his favorite neighborhood -- but after La Rhumba, Stewart said, he is setting his sights on Waikiki.