| | |
| --- | --- |
| | Island Mele |
---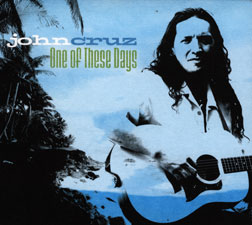 "One of These Days"
John Cruz
(Lilikoi)
It was a bit awkward for John Cruz to be a finalist for Most Promising Artist at the Hoku Awards in 1997. The award honors the "most promising first-recorded effort as a featured artist or group," but "Acoustic Soul," the album that earned him the nomination, was far from being his "first recorded effort." He'd been writing and recording for more than a decade when he returned to Hawaii in 1995, joined his brother, Ernie Cruz Jr., and Troy Fernandez in the Ka'au Crater Boys, and then introduced himself as a solo artist with "Island Style," the local hit that became his musical signature.
"Acoustic Soul" won the Hoku for Most Promising Artist and Contemporary Album of the Year as well. Now, after 10 very eventful years, Cruz is back with his long-awaited second album. His peers' expectations in dubbing him "most promising" have been fulfilled in every possible way.
Cruz reintroduces himself as a soulful rocker with the title track. Others reaffirm his talent as a blues singer. An eclectic assortment of instruments -- tuba, baritone sax, clavinet and Hammond B-3 organ among them -- adds unusual ear-catching texture on various selections.
"Missing You," one of his five originals, is the most emotional of the collection. It's just Cruz and his acoustic guitar, with a harmonium player providing discrete instrumental support, describing the searing pain of heartbreak in powerful style.
"Hi'ilawe," a nod to his Hawaiian heritage, is the first of several songs that suggest healing and revival. The energy level builds as he stretches out with a pair of moody blues-rock tunes before ending his musical odyssey with a soothing message of hope written by his brother Ernie.
The liner notes don't say that the sequence of the songs parallels the events seen in filmmaker Leslie Truglio's documentary, "Made of Music -- The Story of John Cruz," but with "Missing You" near the mid-point, and Ernie's soothing song at the end, there is an inescapable sense of a sensitive soul enduring torment and finding peace.
---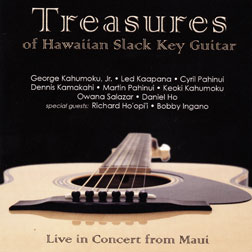 "Treasures of Hawaiian
Slack Key Guitar"
Various artists
(Daniel Ho Creations)
Record producer Daniel Ho is 2-for-2 at the Grammy Awards with slack-key compilations. This one could easily make Ho and his partners three-time winners at the Grammys next spring.
It includes recordings by Ledward Kaapana, George Kahumoku Jr., Dennis Kamakahi, Cyril Pahinui and Martin Pahinui -- all of whom are unquestionably treasures of slack key. There are also recordings by guitarists who are at least a decade away from deserving the accolade, one song each by steel guitarist Bobby Ingano and Hawaiian falsetto singer Richard Ho'opi'i (who plays 'ukulele), and a number by Garrett Probst and Peter de Aquino (the duo formerly known as Da 'Ukulele Boyz). In short, it isn't all slack key.
Ho and his partners have taken a significant step forward as producers by including photos and short bios of the artists, information about the songs, and guitarists' slack-key tunings. Bravo!!
---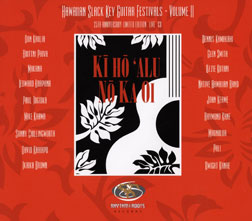 "Hawaiian Slack Key Guitar Festivals
Volume II: 25th Anniversary
Ki Ho'alu No Ka Oi"
Various artists
(Rhythm & Roots)
Milton Lau has been quietly promoting Hawaiian slack-key guitar for 25 years. He's commemorating his first quarter-century with this economically packaged anthology of 19 recordings culled apparently at random from his archives. Although the history of the selections isn't provided, Sonny Chillingworth's recording of "Roughriders" dates from 1994 at the latest.
As with his recent compilation, "Hawaiian Slack Key Kings," Lau showcases a wide range of players. Several tracks feature men rightly known as masters -- Chillingworth, Ledward Kaapana, Dennis Kamakahi, Raymond Kane and Ozzie Kotani. Others display the work of other artists who are well worth hearing.
A concert stage recording of "Hi'ilawe" by Melveen Leed and the Native Hawaiian Band is one of the instant stand-outs
The music is beautiful, and the range of styles and techniques adds interest. It's unfortunate no information is included about the artists, their slack-key tunings or the significance of the songs. This information is an essential part of any Hawaiian album.
---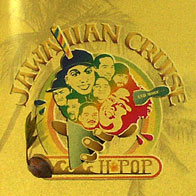 "Jawaiian Cruise"
Various artists
(Pony Canyon)
This is another album released in Japan to promote Jawaiian music there. It is currently available only in Japan, but Hawaii residents with Internet access can probably find a way around that limitation.
Ekolu is represented with four songs and B.E.T. with three. B.ET. does Hawaii proud with "Reggae Love" and "Rise Up." Ekolu represents the softer sound of Jawaiian music with equal effectiveness.
There are also two songs each from Laga Savea and Shen; two acts that must be better known in Japan than in Hawaii.
Two selections were hits here. "Aloha," written by Danny Kennedy and recorded by The Mana'o Company in 2001, won a pair of Na Hoku Hanohano Awards in 2002. Ekolu's "Shores of Waiehu" was also a hit, although not a Hoku-winner.
A newly recorded song, "Pacific U-N-I-T-Y," would have been complete with O-shen singing in English, Hawaiian and niugini pidgin, but Shen adds a Japanese segment.
"Vi Vi'i Atu I'a, a smooth pop ballad sung by Aziel in an unidentified Polynesian language, provides a welcome break from the Jawaiian format.
John Berger
, who has covered the local entertainment scene since 1972, writes reviews of recordings produced by Hawaii artists. See the Star-Bulletin's Today section on Fridays for the latest reviews. Reach John Berger at
jberger@starbulletin.com
.