Isles so far avoid brunt of crisis in home loans
STORY SUMMARY »
One measure of mortgage trouble showed a sharp increase this year over last for Hawaii, new data indicate, but even by that measure the state remains near the bottom nationwide.
A report from California-based Foreclosures.com found that for the first eight months in Hawaii, real estate owned -- property that has been foreclosed upon by lenders -- jumped 138 percent over the same period last year. That is the eight-greatest percent increase in the nation, the company found.
However, the company also noted that in REOs per capita, Hawaii ranked 45th of 47 states in its study. Local experts say it is too soon to tell how much of an impact the subprime lending implosion will have locally.
---
FULL STORY »
Hawaii's foreclosure rate ranks near the bottom nationwide, according to a report of Sacramento, Calif.-based Foreclosures.com, although by one measure, it has recorded a triple-digit increase over last year.
The foreclosure Web site, run by foreclosure investing veteran Alexis McGee, tracks more than 3.5 million listings of current foreclosure filings in close to 1,600 major U.S. counties, based on pre-foreclosures (notices of default and other filings made before foreclosure) and REOs (real estate owned, property in the possession of a lender as a result of foreclosure).
For preforeclosures, the state's numbers from January through August were up only 10 percent over last year -- but for REOs, the state's numbers were up 138 percent over the same period.
That triple-digit REO increase puts Hawaii in the same league as California, Arizona, Nevada, New Mexico, Florida, New Hampshire and Minnesota -- other states with triple-digit gains.
However, the firm found Hawaii's actual foreclosure numbers remain low -- 47 in the first eight months of 2006 to 112 in the same period in this year.
And Hawaii's per-capita foreclosure rate of 0.03 percent remains far lower than those states -- 45th among 47 states that the company tracked.
That is in line with a separate study by RealtyTrac using July data, which also found that ranked Hawaii No. 45 nationally, with a rate of one foreclosure per every 5,777 house- holds.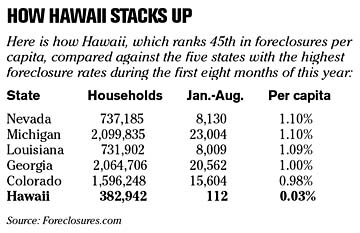 ---
"Compared to the nation as a whole, Hawaii is still on the bottom," said Donald Lau, president-elect of the Hawaii Association of Mortgage Brokers. "The culture here is different. People are less inclined to walk away, and although different parts of the island may have dropped a little bit, the (real estate) values here are holding up."
Because of the subprime lending implosion, there will be fewer choices for borrowers here as well, with stricter standards, including larger down payments.
"People who are going to qualify are going to qualify," said Lau. "People who aren't going to qualify aren't going to qualify. It's going to be a lot tougher."
In Honolulu, the residential real estate market performed well in August, with 381 homes trading hands at a median price of $650,000, according to the Honolulu Board of Realtors, 30 more than the same time last year when the median was only $635,000.
"We've still got an extremely tight labor market here, and foreclosures usually don't happen unless people lose their jobs," said economist Leroy Laney, adding that it remains too soon to assess local impact of the subprime lending collapse.
Foreclosures.com found no sign of a local mortgage implosion ahead in Hawaii. A total of 474 preforeclosures were filed this year through August out of a total of 403,125 households in Hawaii.
That works out to 0.12 percent of homes per capita, which ranks Hawaii 29th out of 35 states for which the company had data.
Nationwide, these preforeclosure filings, which include notices of default and notices of foreclosure auction, continue to increase at an alarming rate, according to McGee.
On a per capita basis, which measures the real impact of housing market trends, a little more than four out of every 1,000 households in the U.S. have been lost to foreclosure this year.
The subprime lending fallout is having an impact nationwide, and no doubt, Hawaii is feeling some of it, as national companies with branches here lay off their employees.
However, many local branches have also managed to align with new financial backers, such as was the case with American Home Mortgage and Charter Funding of Hawaii, where employees went to work for IndyMac Bank of Pasadena, Calif.
The states with the most pre-foreclosure filings per capita, year-to-date, include: Nevada, Florida, Colorado, Illinois, California, New Jersey and others.