---
FAST FACTS HAWAII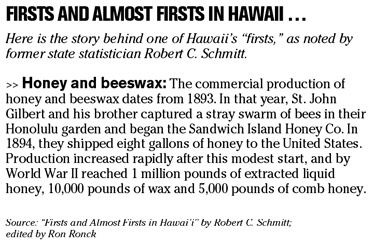 ---
NATION
B sure tu spellchek yor resamay
Run a spellcheck before you send out your resume. Up to two-thirds of small businesses report finding misspellings in half of the resumes they receive.
Even worse, the same number reported that job applicants lie during the interview process, according to a survey by the National Association of Professional Employer Organizations.
Outsourcing company ADP reported that 6 percent of applicants that it performed background checks on covered up something negative about their past.
Another way to make a bad impression: Show up to an interview looking like a slob.
Three-quarters of companies picked "unclean" as the most negative characteristic in a job applicant. More than two-third chose "sloppy."
Also unappealing were applicants who had numerous prior jobs.
Companies will have to deal with fewer of these faux pas this year, however, because many say they don't plan to hire during the last three months of the year, due to a shaky economy.
The survey was conducted in August and included more than 350 businesses.
Good vacation deals on horizon
For those of you who still have vacation days to use up this year, some good deals and beautiful weather await.
The next few months abound with cheaper airfare and hotels, comfortable temperatures and crowd-free travel, now that the peak summer vacation season is winding down, said Fiona Lake Waslander, director of Yahoo! Travel.
If you have only two to three vacation days left, consider traveling closer to home. Dreaming of Paris? Canada's Quebec City offers French culture without the overseas trip, she said. During November and December, cooler weather beckons in Phoenix and Miami.
If you've got a week or two to use up, try a destination like Istanbul, Lake Waslander said.
"Europe and Asia can really give you quite a diverse vacation with some great prices this time of year," she said.
After the hurricane season ends in September, the Caribbean and Mexico can be great vacation options.
First things first, however. Before you book your flight or reserve a hotel room, double-check your remaining vacation days with human resources, Lake Waslander said.
Try to avoid a 'war of the ages'
According to a new survey, younger workers experience age discrimination more frequently than their older colleagues. More than 35 percent of 18- to 34-year-olds reported age discrimination in the workplace, compared to only 24 percent of employees ages 35 and older.
"Ageism isn't about old people, it's about all people," said Laurel Kennedy, president of Age Lessons, the consulting firm that conducted the survey. "To avoid a 'war of the ages' in the workplace, companies need to address generational diversity across the age spectrum."
Men were more likely than women to report age discrimination at work, with 30 percent reporting a personal experience with ageism, compared to 23 percent of women.
The survey was conducted online among more than 1,000 employed U.S. adults and was supplemented by an additional 71 follow-up interviews with management personnel at U.S. corporations.
Many execs unprepared to act
Even if they think they know what is coming, executives have their doubts about their companies' ability to capitalize on it. That is the depressing conclusion of a survey of 3,693 executives conducted by the consulting firm
McKinsey & Co.
The firm found that these executives think they have a handle on the near future. The McKinsey Quarterly reports that more than three-quarters think there is an opportunity to exploit the increasing availability of knowledge, almost as many think there will be a faster pace of technological innovation, and more than half think "there will be a growing number of consumers in emerging economies."
Yet, when asked whether their firms had taken "active steps" to capitalize on these trends, a substantial number said no. You are left to draw your own conclusions as to why.
---
BUSINESS PULSE