SAT scores drop across the board
STORY SUMMARY »
Hawaii student scores on the College Board SAT dropped again this year, in line with a nationwide decline.
Students from public, independent and religiously affiliated schools in the state had a combined average score of 484 in reading out of possible 800 points. They scored 506 in math and 473 in writing.
Those are lower than the national averages of 502 in reading, 515 in math and 494 in writing.
Independent schools topped the national averages, but also declined in all three subjects.
---
FULL STORY »
Scores for Hawaii public and private students on the College Board SAT dipped for the second straight year as combined math and reading grades among high school seniors nationwide sank to the lowest levels in eight years.
Hawaii public school students who took the college entrance exam averaged 479 in math, a five-point drop from last year. The reading score went down one point to 459 out of a possible 800.
In the writing section, public school students scored 446, two points lower than in 2006, the year the writing test was introduced.
Average scores for independent schools in the state declined in all three subjects and religiously affiliated schools experienced a drop only in the writing portion. But both groups surpassed the combined national averages of 502 in reading, 515 in math and 494 in writing.
Hawaii logged a combined average score of 484 in reading, 506 in math and 473 in writing. The state's overall writing and reading results jumped by one and two points respectively because more students from independent and religious schools took the exam this year, said Andrew Wiley, executive director for higher education research at the College Board.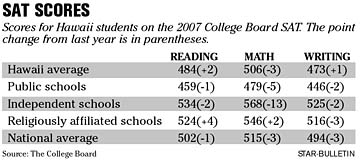 ---
The nonprofit board attributed the national plunge in scores to a rise in nontraditional students participating in the test amid concerns that changes made to the test last year could be to blame. The new test is three hours and 45 minutes, up from three hours previously, and includes writing.
The board noted that about a quarter of the 1.5 million students in the Class of 2007 who took the test had English as their second language, up from 17 percent a decade ago, and that minority students comprised nearly four out of 10 test-takers.
State education officials said those factors may have dragged down scores here as well.
"It mirrors the trend nationally," said Robert McClelland, director of the systems accountability office. "The more that they include kids who may not have considered attending college, there's a little more likelihood that the average scores would drop."
Participation in the SAT in Hawaii rose about 3 percent from last year to 5,014 students. The percentage of native English-speaking students, who tend to score higher, declined to 72 from 74 in this spring's SAT.
To boost scores locally, the Education Department began offering free practice SAT tests for all 10th-graders in October after securing $175,000 from the 2006 Legislature.
The program, aimed at familiarizing students with the test's format, will be expanded this year to sophomores and juniors, said spokesman Greg Knudsen.
"It's a factor that can tremendously help students be better prepared for taking the College Board SAT," he said.
The low SAT scores are in stark contrast to recent results of the ACT exam, a competing test that is becoming widely used by colleges and universities checking whether students can handle college-level work.
Hawaii's ACT-tested students earned an average score of 22.3, above the national average of 21.2 out of a possible 36 points.
Of the Hawaii students who sent their SAT test scores to universities or colleges, 63.9 percent of them chose the University of Hawaii at Manoa, followed by Hawaii Pacific University (20.4 percent) and UH-Hilo (14.7 percent).
Outside the state, the University of Washington received the most score reports from isle students, 14.1 percent, followed by Oregon State University and the University of Southern California.