Kids' entertainer loses business in home fire
The blaze burns two houses so quickly that firefighters can do nothing to save them
As Kelly Ferreira looked at her home, blackened and destroyed by fire yesterday, she thought of the children who would miss seeing her as mad scientist "Cosmic Kelly" -- at least for a while.
Orange flames leaped from her rented home of one month at 3802 Mariposa Drive on Wilhelmina Rise and spread to the house behind, covering the quiet neighborhood in smoke. The roofs of both houses collapsed, but luckily Ferreira, her younger sister and a friend escaped safely and no one was in the other home.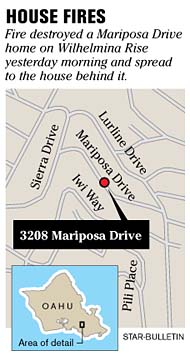 With everyone safe, Ferreira's worries shifted to "Cosmic Kelly," the role she plays in her child entertainment business, Mad Science of Hawaii, which she operates from home. The fire destroyed her supplies and computer, erasing her contacts and job schedules.
The supplies included batteries, plastic beakers and some chemicals, including ethanol, all used as part of the show.
"I'm really worried about the customers and kids," said Ferreira, 29, as firefighters continued to spray her house with water. "We can't call them and tell them we can't come in. This is my sister's and my life."
Her 23-year-old sister, Jaime, had recently moved from Maui to help with the business, which hires out mad scientists, rather than magicians or clowns, to perform at after-school programs and birthday parties. They canceled yesterday's afternoon shows at Kahala and Mauka Lani elementary schools because of the fire.
The blaze started around 8 a.m. from a cause and location the Fire Department is still trying to figure out. Ferreira was asleep.
"I heard the fire alarms go off," Ferreira said. "(The fire) was pretty big. It was by our entryway. I ran and got my sister. I tried to get out through the front door and had some smoke inhalation."
Neighbors, even some from a couple of streets away, heard an explosion of glass breaking and saw flames that engulfed the homes.
"The fire was intense," said Selina Tarantino, 37, who lives a couple of homes above Ferreira's on the mountain on Lurline Street. "I tried to water the foliage in my back yard to protect it. The flames were so hot that two houses away, I couldn't do it."
Firefighters arrived at 8:16 a.m. By then there was little the 25 firefighters could do to save the homes.
"The fire was so far advanced when we got here that it was a complete defense operation," said fire Capt. Terry Seelig. "We were trying to control the fire from spreading to other structures."
About 45 minutes later, firefighters had the blaze under control but spent most of the morning watering down areas that were still smoldering. Yesterday, investigators were estimating the damage.