Say 'Bon voyage' to Ocean Club in September
AS WAS first reported in this space last week, the
Ocean Club
will close its doors on Sept. 2 after more than a decade at Restaurant Row.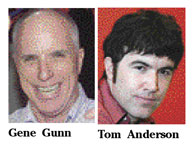 At that time, I couldn't confirm rumors I'd heard about owner Gene Gunn vacating the space and others vying to sign a new lease for the property.
But I got word on Sunday that my hunch was right -- after repeatedly ignoring requests for comment, general manager Mel Holi announced in a press release that the club will move.
"Unfortunately, we will not be returning to Restaurant Row," he said. "In 2008, Gene Gunn and Entertainment One Pacific plan to elevate the caliber and raise the bar in regards to concept, design, entertainment and service by opening our venue at a new location."
An extended goodbye kicks off this weekend with a final installment of the "Piranha Room" on Saturday (yes, the monthly party continued even after Russell Tanoue took his crowd and went elsewhere). DJs Toma and Warren Peace play on Sept. 1, with Mac Dame and DJ Pat Allen closing the club on Sept. 2 ...
THE BIG concert news last week was an announcement that Aerosmith will perform in Hawaii next month.
I'm pretty sure it wasn't that big of a deal for my regular readers, however. They got the scoop about the band's visit back in May when I broke the news in this column.
So what's next? How about the Mad Caddies?
I'm told it's almost a done deal to bring them back here in October, with local band Golfcart Rebellion scheduled to open ...
FRIDAY'S PICKS: Missing Dave lead singer Daena Dempsey celebrates her birthday at Red Lion University with a Cowboys-and-Indians theme party and sets by her own band, Grand Theft Audio and Cradle Falls, starting at 9 p.m. ... After spinning a rare '80s set at NextDoor on Wednesday, DJ King Britt returns to Chinatown to headline the club's "Pacific Standard" house weekly alongside Philadelphia's DJ Blake and Hawaii-based DJ Zacharijah ... Following a Thursday gig at NextDoor, "Wormwood" moves to Anna Bannana's for an 18-and-over show. Special guests Ceschi and David Ramos will be joined by Listener and local openers Black Square, The Malcognitas, Rhyme Da Old Man, Nabahe the Band and Brainstorming Weather starting at 9 p.m. ...
SATURDAY'S PICKS: MySpace.com's Tom Anderson returns to host another bash at Pipeline Cafe, with support from local promoters Rick Rock, Level H Promotions, Furious Styles Productions and Rev808.com ... The Bay Area invades Hawaii once again, as the "Hella'waii Tour" wraps up at NextDoor following a stop at Anna's on Thursday. Expect performances by Live Audio Explosion, Inspector Double Negative and the Equal Positives with DJs Delon and Rudedogg on the decks and live art by Marlon S. Ingram. This one is also billed as the "official" after party for the second Gwen Stefani concert, with a special guest appearance by No Doubt touring band member Steve Bradley ... Punk rockers The Knumbskulls play their first show in two years this weekend at Anna's, with opening sets by Maui's White Rose and Pimpbot. Doors open at 9 p.m. for the 18-and-over crowd, with DJ Sleepless spinning from midnight to closing ...
LOOKING AHEAD: Get ready to bring back the '90s on Thursday, when the ladies of SMART Magazine and the Nocturnal Sound Krew team up for "Throwback Thursday" at NextDoor.
Expect nothing but '90s hip-hop, reggae, new jack swing and even house music, as SMART Magazine celebrates the release of its Fall 2007 issue. Get there between 9 and 11 p.m. to enjoy a complimentary Stoli or Malibu Rum cocktail with paid cover, and stay late to dance the night away with DJs Eskae, Jami and Compose. Five bucks gets you in ...