Kilauea's winding ways create lava fears
STORY SUMMARY »
HILO » Lava movement in the new flow area outside Hawaii Volcanoes National Park has raised concerns that after years of spilling harmlessly into the sea, Kilauea could inflict some damage on residential property.
"If it comes down that far, we'll have havoc," said former Hawaii County Councilman Gary Safarik, who lives in the potentially threatened area of Ainaloa, six miles downslope. "All you can do is evacuate."
To address mounting worries, Mayor Harry Kim and volcano chief scientist Jim Kauahikaua will hold a press briefing this afternoon.
Unlike lava flows that headed safely to the sea for most of the past 15 years, flows since July 21 have been active in an inland area several miles uphill from homes and businesses. The flows pose no immediate danger, but their long-term effects are difficult to calculate.
"It's like a hurricane system developing 2,000 miles away," Kim said. "Any scenario is possible."
---
FULL STORY »
HILO » Rene Siracusa, environmentalist and community advocate, lives in the forested, agricultural Kaohe Homesteads above Pahoa, south of Hilo. The sparsely populated community is five miles directly downhill from active lava flows.
"There's a finger (of lava) pointed toward us," Siracusa said.
"I'm not going to have sleepless nights and worry needlessly," she said.
But others are not so calm.
Mayor Harry Kim and Hawaiian Volcano Observatory scientist-in-charge Jim Kauahikaua planned a news conference at 2 p.m. today "to ensure that the public is kept fully and accurately informed," a statement said.
Speaking one to one, Kim was more direct. The reasons for the meeting include public "anxiety," he said.
After 15 years of lava flowing in an area where there was nothing left to destroy, the flow has now moved to an area where lives and property could be at stake.
Stretching 35 miles from Kilauea caldera to Cape Kumukahi is Kilauea volcano's east rift zone. Since the destruction of Kalapana village at the beginning of the 1990s, flows have taken place on the seaward side of the rift.
Starting July 21, the flows switched to the inland side. There is a lot besides Siracusa's home and 66 other Kaohe houses downhill from there, most notably Pahoa village, nine miles below the flows, the business center for numerous residential communities where thousands of people live.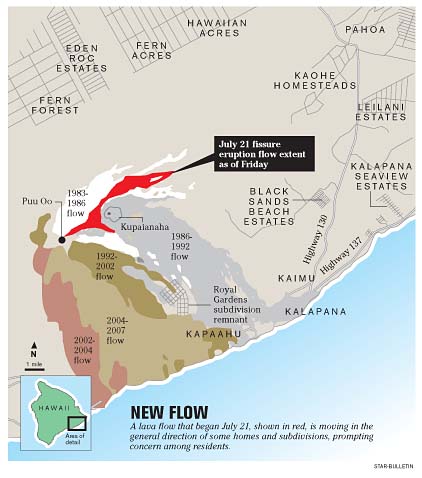 ---
Even if an extended flow missed every home and business, it could still cut Highway 130, the sole road in and out of the area.
That is the kind of thinking that Kim prefers not to emphasize. He said yesterday he would not even discuss Highway 130 being cut.
"It's like a hurricane system developing 2,000 miles away," he said. "Any scenario is possible."
The flows could simply stop, he said. In fact, they have stopped several times. But each time, a new flow heads downhill beside the old ones.
Or the starting point for flows could return to Puu Oo crater uphill, and flows could head back to the sea.
Former County Councilman Gary Safarik lives in the potentially threatened community of Ainaloa, six miles downslope.
"If it comes down that far, we'll have havoc," he said. "All you can do is evacuate."
Siracusa said even evacuation will be difficult in Kaohe. Cells phones work badly or not at all there, she said. People live in homes, often without permits, located down driveways hundreds of feet long, blocked by gates.
Civil Defense sirens in Pahoa are too far away to be heard. Police with bullhorns probably would not be heard in isolated homes, where many people are suspicious of police anyway, she said.
Are the worries justified? "Everything is so premature," Kim said.
---
BACK TO TOP
|
Secret meeting addresses lava flows
HILO » The Hawaii County Council held a secret meeting yesterday with Mayor Harry Kim and volcano observatory head Jim Kauahikaua for a briefing on current lava flows, Kim and county attorney Lincoln Ashida confirmed.
The meeting might have been a violation of the state Sunshine Law, which requires all meetings of the Council to be open to the public, with a few limited exceptions.
Kim said the meeting was open to the public, but he conceded there was no public notice. Notice must normally be six days in advance.
University of Hawaii journalism professor Beverly Keever said even if the meeting was held under a provision for closed meetings on public safety, it should have been announced.
Ashida said the law allows unannounced meetings as long as the Council does not work on a decision.
He said he will ask the state Office of Information Practices for a review of the unannounced meeting.
---
Star-Bulletin staff