10 victims were from Schofield
The Black Hawk copter that crashed in Iraq yesterday also carried four from Washington
STORY SUMMARY »
Hawaii's worst fears were confirmed yesterday as word spread that 10 of the 14 soldiers killed early yesterday in a helicopter crash in Iraq were assigned to the 25th Infantry Division at Schofield Barracks.
The Army acknowledged that four crewmen of the UH-60 Black Hawk helicopter were from an air cavalry squadron based at Fort Lewis, Wash.
A formal announcement of the victims' identities awaits notification of the families.
The 10 Hawaii-based soldiers, all passengers in the chopper, which crashed during a night mission, belonged to the 3rd Brigade Combat Team, operating as part of Task Force Lightning. Their battalions were not identified.
One soldier, Spc. Nathan Hubbard of Clovis, Calif., joined the Army after a brother, Jared, died in Iraq in 2004.
Another casualty, Capt. Corry Tyler of Georgia, a 1999 West Point graduate, had volunteered for his third combat tour.
"America owes these brave soldiers and their families a debt of gratitude that can never be repaid," said U.S. Sen. Daniel Inouye, D-Hawaii. "I salute them."
---
FULL STORY »
Families, friends and comrades mourned yesterday as news arrived that 10 of the 14 soldiers killed in a helicopter crash in northern Iraq were members of the 25th Infantry Division.
Hawaii troops have now suffered the two deadliest helicopter crashes of the Iraq war.
The four crew members of the UH-60 Black Hawk helicopter were from Fort Lewis in Washington state, an Army spokesman there confirmed.
The Army in Iraq will not release the names or units of the deceased until the relatives of all 14 soldiers have been notified. However, Col. Timothy Ryan, rear detachment commander for the 25th Division at Schofield Barracks, confirmed that the 10 helicopter passengers were from the division.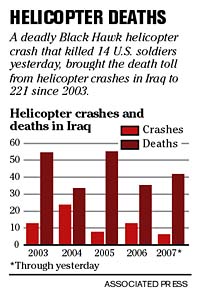 More than 7,000 soldiers, most with the 3rd Brigade Combat Team, left for Iraq last August for what was supposed to be a yearlong tour. However, in April their combat deployment was extended to 15 months.
An Army spokesman at Fort Lewis said the Black Hawk and its crew of four were from the 4th Squadron, 6th Air Cavalry Regiment, but were attached to the 25th Aviation Brigade, commanded by Col. A. Thomas Ball Jr.
Television stations in Texas, Florida and Ohio; newspapers in Missouri, Pennsylvania and California; and friends and family identified seven of the 14 soldiers but did not name all their units or list their ranks:
» In Texas, KRIS-TV in Corpus Christi reported that Garret McLead of Rockport, Texas, was on the UH-60 Black Hawk helicopter as a medic.
» In Ohio, WKYC in Cleveland said Joshua Harmon, 20, of Willoughby Hills, Ohio, was part of the mission. Harmon, an Army medic, had recently married.
» In California, friends and family said Spc. Nathan Hubbard -- whose brother Jared died in Iraq in 2004 -- was killed in the crash. An older brother, Jason, also joined the Army. Both felt it was their duty to help finish the job their brother started.
» In Florida, WJXT reported that Capt. Corry Paul Tyler, a 1999 West Point graduate, had volunteered for a third combat tour in Iraq even though he did not have to since he was the sole surviving male member of his family, according to his minister, the Rev. William Warnock. "It speaks highly of his integrity. I served in the service, and any person who volunteers, they're just special, just absolutely special people," said Warnock.
» In Pennsylvania the Pittsburgh Tribune Review said Michael Hook, who would have celebrated his 26th birthday tomorrow, died in the crash. His father, Larry, of Altoona, told the newspaper Hook and his fiancee were expecting the birth of their first son. Michael Hook deployed to Iraq last August and was due to return to the United States next month, his father said.
"He died doing what he wanted to do," Larry Hook said. "I am very proud of my son."
» In Missouri the News-Leader, a newspaper in Springfield, said another passenger on the helicopter was Jessy Pollard, 21, an Army Ranger. "He was fighting for our American freedoms that we enjoy," Alan Dewitt, Pollard's stepfather in Ozark, told the News-Leader. "After high school he really got into wanting to do that. He prayed about it a lot before he joined."
The soldier was at home on leave in July, Dewitt recalled. "We hadn't seen him in six months, so it was good to have him back. He was doing what he wanted to do."
» A member of the Fort Lewis helicopter crew was identified as Ricky Bell, 21, by KSVS-12 television in Missouri. Family members said Bell was due to come home on Sept. 13. His aunt Glenda Overbey said Bell celebrated his 21st birthday on June 30.
Lt. Col. Michael Donnelly, 25th Division spokesman in Iraq, said the Black Hawk crashed before dawn in the Tamim province that surrounds Kirkuk, an oil-rich city 180 miles north of Baghdad.
UH-60 Black Hawk
General characteristics

» Crew: Minimum 2 pilots

» Capacity: 2,645 pounds of cargo, including 14 troops

» Rotor diameter: 53 feet, 8 inches

» Powerplant: 2 General Electric T700-GE-701 free-turbine turboshafts, each producing 1,560 horsepower

» Speed: Maximum 193 knots, or 222 mph

» Combat radius: 368 miles

» Ferry range: 1,380 miles

» Service ceiling: 19,000 feet

Source: Encyclopedia of Modern Warplanes
Donnelly said mechanical problems and not hostile fire were the reason for the crash.
The Black Hawk was one of two helicopters that had just picked up troops after a night operation when it encountered mechanical problems.
CBS News reported last night that almost 800 yards into the flight, a tail rotor malfunctioned. Before the pilot could react, the helicopter went into an uncontrollable spin and crashed in rough terrain.
U.S. Sen. Daniel Inouye expressed his sympathies to the families of the 14 soldiers, noting that "we should not forget them, even if it was a mechanical accident."
"Having spent a year in combat many years ago," Inouye said in a written statement, "I believe I can understand in a small degree the pain, sadness and grief of those who will spend their lives remembering these heroes. America owes these brave soldiers and their families a debt of gratitude that can never be repaid. I salute them."
In January 2005, 26 Marines and one Navy corpsman from the battalion stationed at Kaneohe Bay were killed in western Iraq when the CH-53E Super Stallion helicopter they were in crashed during a sandstorm.
There were 30 Marines and a corpsman on that flight. The Marines from the 1st Battalion, 3rd Marine Regiment, at Kaneohe Bay were on a security mission in support of the national election in Iraq.
---
BACK TO TOP
|
Family horrified after losing 2 sons to Iraq war
After Marine Cpl. Jared Hubbard, 22, was killed in Iraq in 2004, his two brothers, Nathan and Jason, joined the Army in 2005 to honor his memory.
Nathan, then 19, and Jason, then 31, believed it was their duty to enlist and did not worry about dying in combat, they told the Fresno Bee in November 2005.
Nathan told the Bee that he felt wearing a uniform was "a real honorable thing to do."
Their mother was horrified when her remaining two sons approached her and their father, Jeff, with their plans.
"All I heard was Iraq. All I envisioned was Iraq and two more sons," Peggy Hubbard told the Fresno Bee. After Jared's death their lives were "shattered," she said.
Yesterday, Peggy and Jeff Hubbard of Clovis, Calif., lost a second son to the Iraq war, their youngest child. Army Spc. Nathan Hubbard, 21, was among the 14 killed early yesterday when their Black Hawk helicopter crashed. He was assigned to Hawaii's 25th Infantry Division.
He is also survived by an older sister.
The family was notified at about 3 p.m. yesterday, according to a news release issued through the Fresno Police Department, from which Jeff Hubbard retired as a police sergeant.
"They're taking this loss very hard" and requested no media interviews, said Fresno Police Department spokeswoman Janet Stoll-Lee.
---
BACK TO TOP
|
In tribute
"These soldiers will not be forgotten, but rather, their memory will live on as a reminder to all of those who continue to serve in harm's way, not only in Iraq, but also in several hot spots around the world. As we mourn their loss of life and injury, we give thanks in appreciation for their ultimate sacrifice and selfless duty to our Army and our nation."
Col. Timothy M. Ryan
Rear Detachment Commander, 25th Infantry Division
---
"America owes these brave soldiers and their families a debt of gratitude that can never be repaid. I salute them."
U.S. Sen. Daniel Inouye
---
"(I am) deeply saddened to learn that this crash has claimed the lives of more American soldiers, and the burden of this tragedy grows even heavier to know that the lives of some soldiers from our military ohana here in Hawaii are involved."
U.S. Rep. Neil Abercrombie
---
"These soldiers were true patriots who were committed to defending freedom here at home and around the world and helping the Iraqi people build a new democracy. We are eternally grateful for all they have done for our state and nation, and will forever remember the sacrifices they made."
Gov. Linda Lingle