Search for 2 kayakers finds only 1
STORY SUMMARY »
One Maui County resident was rescued yesterday 25 miles off Lanai, but another was still missing last night after the two men were swept out to sea on their kayaks.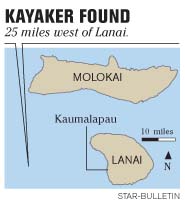 Martin Nai and David Lorenz left Kaumalapau Harbor at about 9 a.m. Sunday on what was supposed to be a kayaking day trip. Coast Guard rescuers picked up Nai, who was found on his kayak yesterday morning west of the harbor.
Lorenz's kayak was found empty about two miles south of where Nai was rescued. The Coast Guard search, focused on nearly 700 square miles offshore of Kaumalapau Harbor, continued into last night.
Ocean conditions were rough, Coast Guard officials said, with 6- to 8-foot seas and winds blowing at about 40 mph yesterday morning.
---
FULL STORY »
WAILUKU » One kayaker was rescued but another remained missing last night, as the Coast Guard searched waters off Lanai in conditions that sometimes were close to a tropical storm.
Winds were blowing at about 40 mph, and there were 6- to 8-foot-high seas early yesterday morning, making the search difficult for vessels.
The two men, who work for a construction company on Lanai, left on kayaks on Sunday morning from Kaumalapau Harbor in southwestern Lanai. They were reported missing at about 8 p.m. Sunday night, police said.
A Coast Guard rescue helicopter found Maui resident Martin Nai with his kayak about 25 miles west of Kaumalapau Harbor at about 11 a.m. yesterday. The helicopter rescue crew picked him up and took him to Kahului Airport.
He was reported in good condition with slight hypothermia, before leaving the airport with his mother, authorities said.
Searchers also found a second kayak, two miles south of where Nai was found, but without kayaker David Lorenz of Lanai.
The Coast Guard search focused on nearly 700 square miles offshore of Kaumalapau Harbor.
The Coast Guard, using two HH-65 Dolphin rescue helicopters and a C-130 search plane from Air Station Barbers Point along with the 87-foot cutter Kittiwake, was planning to continue searching for Lorenz throughout the night.
"We want to make sure we make every possible effort in finding that person," said Coast Guard Petty Officer Luke Clayton.
Clayton said the Coast Guard will be using night-vision instruments to locate the missing kayaker.
Coast Guard officials used drift models such as the speed and direction of currents to determine the kayakers' possible location.
They said the two missing kayakers had planned a day trip and left at 9 a.m. Sunday.
Maui police were investigating the incident and planned to interview Nai.
Maui fisherman Donnell Tate said the area off Kaumalapau can be windy and not ideal for kayaking.
"If you get blown off Kaumalapau, I don't think you could make it back to the harbor, the way the winds and currents are blowing," Tate said.