| | |
| --- | --- |
| | Newswatch |
---
FIRST-CLASS EDUCATION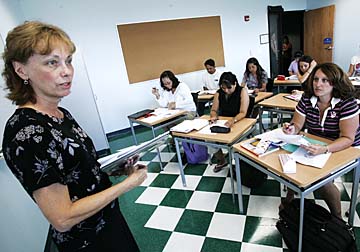 ---
Irradiator gets federal license
After two years of debate and public hearings, a federal commission granted a Hawaii company permission to build a commercial irradiator facility near Honolulu Airport.
The U.S. Nuclear Regulatory Commission issued a license to Paina Hawaii, according to a news release yesterday, for a facility that will be used to irradiate locally produced fresh fruit and vegetables headed to market on the mainland by exposing them to a short dose of radiation.
"I'm very happy," said Paina President Michael Kohn. "It's a big relief after two years of litigation. As I have said before, I will make it equal and fair for anyone in Hawaii who wants to use the facility."
The facility can also be used for cosmetic and pharmaceutical products as well as research and development projects, according to the release.
Several individuals, as well as Earthjustice -- a law firm representing Concerned Citizens of Honolulu -- strongly opposed the irradiator since Paina's application for a license in June 2005, citing environmental concerns.
After an environmental assessment this year found no significant impact, the NRC said it will allow the use of radioactive sources in the irradiator.
Kohn said he hopes to have the irradiator running by February.
State calls mercury OK in flu shot
Mercury in some flu vaccines being offered to public schoolchildren this fall is part of a safe preservative for the drug, the state Department of Health said yesterday in response to allegations that the chemical is harmful.
Concern over thimerosal, a preservative with ethyl mercury, was raised by Julianne King, the parent of an autistic son and member of the Coalition for Mercury Free Vaccines.
King argues that a vaccine consent form being mailed to parents beginning this week does not explain they can opt for a mercury-free nose spray known as FluMist, which she urged them to choose.
But Dr. Paul Effler of the state Health Department said research has shown that mercury levels in flu shots are not threatening.
He also said parents are receiving a separate packet with information about the voluntary vaccination program.
"A can of tuna fish on the store has twice the mercury of an influenza vaccine," he said. "People have lost perspective on this issue and are essentially attacking something that can prevent their kids from getting a serious illness."
Starting in October, the vaccines will be available for some 200,000 Hawaii schoolchildren ages 5 to 13 in an effort to decrease flu outbreaks on campuses.
The program, estimated to cost $2.5 million, will be paid for by the federal Centers for Disease Control and Prevention and the state with additional support from the Hawaii Medical Service Association.
| | |
| --- | --- |
| | Police, Fire, Courts |
---
NEIGHBOR ISLANDS
Big Island fire is under control PAHALA, Hawaii » Big Island firefighters spent the night monitoring the remnants of a 150-acre brush fire that came within 50 yards of the Kau Plantation Country Store in Pahala but caused no damage to any structures.
The fire of unknown origin was declared under control at 4 p.m. yesterday.
It started at about 1 p.m. Sunday and forced the temporary evacuation of three homes due to smoke.
Kau Hospital is nearby, but spacious grounds kept the fire away and winds carried smoke in the opposite direction, Fire Chief Darryl Oliveira said.
Smoky fire forces evacuation
PUHI, Kauai » A white-goods fire at a recycling depot in Puhi Industrial Park caused the evacuation of about a dozen homes yesterday.
The fire, which burned a huge pile of recycled home appliances and heavy machinery, caused no injury, and no structures were damaged, Kauai officials said.
The cause of the fire is under investigation.
The blaze broke out around 11:15 a.m. in Abe's Auto Recyclers' yard at the southern end of the Puhi park.
Firefighters from four different stations as well as a truck from Lihue Airport Aircraft Rescue responded.
With help from employees at the recycling center and using foam instead of water, firefighters gained control of the fire by 12:20 p.m.
However, a few homes along Haku and Ahina roads were evacuated as a safety precaution due to smoke in the area, said county public information officer Mary Daubert.
Portions of Puhi Road and Hulemalu Road, part of a traffic bypass of Lihue, were closed for a number of hours as well.
The fire was completely extinguished by 4:15 p.m., Daubert added.
LEEWARD OAHU
Man allegedly menaces officer Police arrested a 20-year-old Kapolei man for allegedly threatening an officer with a knife outside his home Sunday night.
Officers were responding to a possible domestic violence case at a home on Wahane Street at about 10 p.m. When they arrived at the house, the man came outside and threatened an officer with a knife, police said.
He was subdued and arrested on suspicion of first-degree terroristic threatening.