---
FAST FACTS HAWAII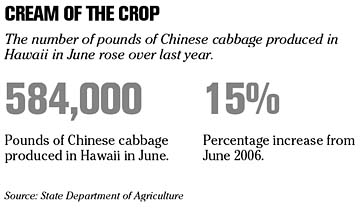 ---
HAWAII
Cyanotech gets another notice Cyanotech Corp. has received a delisting notice from the Nasdaq Stock Market for failing to file its fiscal first-quarter financial report with the U.S. Securities and Exchange Commission.
The Kona-based company, which last week belatedly filed its fiscal year-end statement for the period ended March 31, has been delinquent in its filings over the past year after an internal probe over accounting issues. It had already received a delisting notice over the year-end filing delinquency.
Cyanotech's first-quarter report for the period ended June 30 was due on Aug. 14. The company, which makes nutritional products out of microalgae, now said it expects to file its first-quarter earnings by Sept. 20.
Cyanotech's appeals will be reviewed on Aug. 30 by the Nasdaq Listing Qualifications Panel.
NATION
Capital One to cut 1,900 jobs McLEAN, Va. » Capital One Financial Corp. said yesterday it will cut 1,900 jobs and shutter its wholesale mortgage banking business, a move that comes as lenders continue to struggle in the nation's housing and mortgage markets.
Capital One said it will shut down GreenPoint Mortgage and eliminate most of the jobs by the end of year. The company will "cease residential mortgage origination" effective immediately and close GreenPoint's Novato, Calif., headquarters and 31 locations in 19 states.
GreenPoint specializes in no-documentation and Alt-A mortgage loans for borrowers with slightly better credit than subprime borrowers.
Countrywide cuts mortgage jobs
LOS ANGELES »
Countrywide Financial Corp.
, the nation's largest mortgage lender, said yesterday it has eliminated about 500 jobs as it tries to ride out problems from a credit crunch.
The company said the cuts came in the subprime lending unit of its Wholesale Lending Division and its Full Spectrum Lending unit, which handles mortgages given to customers with minor credit problems or who can't provide full income documentation required for traditional prime loans.
Countrywide employs more than 60,000 people.
Countrywide ran full-page ads in U.S. newspapers, including the Los Angeles Times and Detroit Free Press, in which it asserted "the future is bright" at Countrywide Bank FSB.
WORLD
Rising prices Inflation in China, the world's fastest-growing major economy, accelerated in July, driven by a 15 percent jump in food prices.
BRIEF CASE
Federal fight.
A federal appeals court said it needs more time to consider whether to block Whole Foods Market Inc.'s takeover of rival Wild Oats Markets Inc.
Profit jump. South Korea's Samsung Electronics Co. expects third-quarter operating profit in its memory chip business to double or triple from the previous quarter, a company executive said.
---
BUSINESS PULSE