FRIDAY NIGHT LIGHTS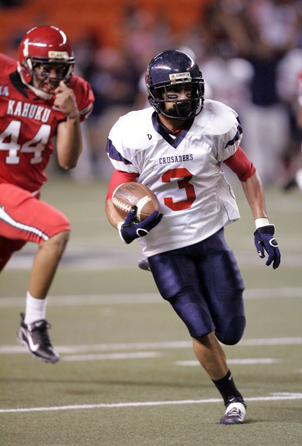 Crusaders catch Red Raiders
The prep football season begins with a title rematch
STORY SUMMARY »
If you were looking for a well-played game that lived up to the excitement of last year's state final, you came to the wrong place.
Top-ranked Kahuku and No. 2 Saint Louis played an on-again, off-again prep football game at blustery Aloha Stadium last night that ended with the Crusaders winning 21-6.
Saint Louis' defense was the star of the show as the Crusaders sacked Kahuku's quarterbacks five times and forced three fumbles, including one by Joseph Lacaden that he returned 37 yards for a touchdown to seal the deal for Saint Louis.
Without talented quarterback Micah Mamiya, who injured his shoulder prior to last year's state final, the Crusaders lost to the Red Raiders 7-6. And while this win didn't avenge that loss, it did reflect how important Mamiya is to the Saint Louis offense.
He threw a 65-yard touchdown pass on the opening drive of the game to Lucas Gonsalves to give Saint Louis a 7-0 lead it wouldn't relinquish. Kahuku pulled to within one, but never got any closer as the Crusaders scored two touchdowns in the second half to win the season opener.
STAR-BULLETIN
---
---
FULL STORY »
The Saints, at least for now, are marching in.
Micah Mamiya, showing no ill effects from last year's season-ending shoulder injury, threw a 65-yard touchdown pass as No. 2-ranked Saint Louis edged top-ranked Kahuku 21-6 last night at blustery Aloha Stadium.
Saint Louis' defense was superlative, forcing three turnovers in what was a 7-6 game until the third quarter. One takeaway, a strip by linebacker Joseph Lacaden of Kahuku backup quarterback Siatima Tapusoa, resulted in a 37-yard return for a touchdown.
The Crusaders also sacked Kahuku quarterbacks five times, including three by 6-foot-2, 275-pound senior Geordon Hanohano.
Kahuku running back Junior Mataafa managed just 36 yards on 14 carries.
"Our defense did well. Kahuku's touchdown came off a turnover," Saint Louis coach Delbert Tengan said. "But we have a long way to go. We were so sloppy on offense. Our defense gave us turnovers in good field position and we didn't take advantage."
Mamiya finished 13-for-28 in the air for 136 yards. The Crusader defense allowed just 120 yards rushing on 46 attempts. Kahuku finished with 200 total yards.
Kahuku's defense permitted just 155 total yards.
Overall, it was as clunky as a first nonconference game could be expected. The teams combined for 10 first-half penalties and officials whiled the time away with lengthy, but necessary conferences.
For a moment here and there, however, the two finalists in last year's state tournament were scintillating.
The Crusaders exploded at the start when Mamiya connected with Lucas Gonsalves for a 65-yard bomb on the game's fourth play from scrimmage. Saint Louis led 7-0 with 11:23 remaining in the first quarter.
Despite the quick score, Saint Louis' offense was stagnant for much of the first half. Mamiya connected on six of his first seven attempts for 98 yards, but was just 3-for-13 for the rest of the half as Kahuku's defense adjusted. The Red Raiders, who have more speed at linebacker this season, used three down linemen and myriad blitzes to keep Mamiya guessing.
Kahuku's offense sputtered on the first two possessions, but first-year starter Jray Galeai stepped up early in the second quarter. The junior quarterback led the Red Raiders on a six-play, 64-yard scoring drive. Using a split-back set for the first time in the game, the Red Raiders got a 16-yard touchdown pass from Galeai to Mataafa.
The shifty back's out-and-up route made him a wide-open target for Galeai on third and goal from the 16. However, the Red Raiders missed the PAT, and Saint Louis still led 7-6 with 9:47 to play in the second quarter.
Kahuku ran its second string in the third quarter, but its defense was stellar. Saint Louis began possessions at the Kahuku 22- and 34-yard lines, but failed to score.
Special teams, however, derailed the Red Raiders. Punt returner Jede Malufau was bumped by a teammate as he received a punt, and Saint Louis' Tamatoa DeMello recovered the muff at Kahuku's 7-yard line.
Two plays later, sophomore running back Vonn Feao scored on an 8-yard burst up the middle. Warren Spencer's extra-point kick gave the Crusaders a 14-6 lead with 2:39 to go in the third quarter.
Lacaden literally took the ball out of Tapusoa's hands as the quarterback ran an option keeper, and then ran 37 yards to paydirt to give his team a 21-6 lead with 6:51 left.
"We see a lot of things to correct. Our special teams, as you saw, needs work, and our offense is looking for a rhythm," Kahuku coach Reggie Torres said, noting that his defensive unit played well. "Our defense did what they're supposed to."
Kapolei 14, Damien 0
Despite throwing three interceptions, Mason Koa completed 13 passes for 120 yards and one touchdown as the Hurricanes defeated the Monarchs.
Aiea 21, Kaimuki 7
Keenan Naeole threw for two touchdowns and rushed for another to lead Na Alii over the Bulldogs.
Pearl City 14, Moanalua 14
Antoin Dewalt ran for 117 yards and two touchdowns, including a fourth quarter 65-yard dash to clinch a tie for the visiting Chargers at Moanalua High School field.
Kauai 35, Keaau 6
Micah Alayvilla scored on touchdown runs of 1 and 14 yards to lead the Red Raiders past the Cougars at Vidinha Stadium in Lihue.