| | |
| --- | --- |
| | Wood Craft |
---
Hawaii's hurricanes have a yen for Spielberg filming
When
Stephen Spielberg
was filming "Jurassic Park" on Kauai in September of 1992, Hurricane Iniki battered that island. Some of Iniki's power was seen in "Jurassic."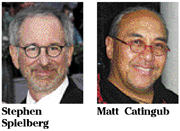 Spielberg was filming "Indiana Jones 4" on the Big Island last month and along comes Flossie soon after shooting ended, skirting that island.
Burl Burlingame
calls it "The Spielberg Curse." Not a bad name for a movie.
Spielberg, Harrison Ford
and
George Lucas
were back on the mainland before Flossie passed by, although production is still winding down. Oh yeah, Stephen, there was another thing that shook us up -- a 5.4 earthquake hit the Big Isle Monday ...
STAGGERING ON: Get set to howl, music lovers. The Symphony Pops concert season, well known for high-quality shows, kicks off this year with Three Dog Night. Concerts are at 8 p.m. Aug. 31 and Sept. 1, and 3 p.m. Sept. at Blaisdell Concert Hall. This is Matt Catingub's 10th year as pops conductor. Matt consistently brings in crowd-pleasers to perform. He also gets in some good licks singing and playing piano and sax, besides leading the band ...
Tennyson Stephens played Cole Porter at the Steinway and Bistro Catering chef Rodney Uyehara and staff prepared a six-course dinner for a party Marks Estate owner Douglas Himmelfarb held recently to honor his mother, Frances Himmelfarb, and cousin, Joy Hecht. Among the 26 guests were Cecilia Blackfield, Galub and Indira Watamull, Gunnar and Susie Schull, Donna Howard, Jeffery Miller and Marion Philpotts-Miller, Peter and Mary Lou Lewis, and Frank and Lynn Sekiya. Himmelfarb, an avid horticulturist and arts patron, is opening the estate for Ballet Hawaii's October fundraiser ...
Get ready to pig out for the UH Warriors
Don Murphy's
first Warrior Pigout more than a decade ago raised $38,000, but that figure has soared to $150,000 over the years. The 12th Pigout fundraiser for the UH football team will take place from 5:30 p.m. Thursday at the restaurant, with many desirable auction items up for bid. Entry is $100. Merchant Street, in front of the popular eatery, will be closed to traffic for the event. Call 531-0422 for more information and tickets ...
Ben Wood
, who sold the Star-Bulletin in the streets of downtown Honolulu during World War II, writes of people, places and things in our Hawaii. E-mail him at
bwood@starbulletin.com