3 die in Maui auto plunge
Four French tourists were in a sedan that crashed down a 15-foot gulch
Three people died when their car went off Crater Road and down a roughly 15-foot-deep gulch at Haleakala National Park yesterday afternoon, a park spokeswoman said.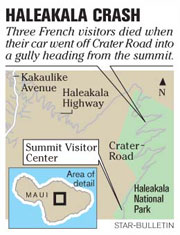 Four visitors from France were in the red four-door sedan. Two women and a man died, while the other man in the car was taken by helicopter and ambulance to Maui Memorial Medical Center. Park spokeswoman Sharon Ringsven said the man, who appeared to be in his 60s, was conscious when he was transported.
The crash was reported at 4:14 p.m. at mile post 13 as the car was headed down from the summit, Ringsven said.
The fatalities appeared to be a man and woman in their 30s and another woman in her 60s, she said. They were part of a larger group touring the park in three vehicles. The victims were not related, she said.
Ringsven said the vehicle landed upright and suffered front- and rear-end damage. The victims who died were found inside the car.
The survivor apparently was the driver and was found lying outside the car, she said.