---
FAST FACTS HAWAII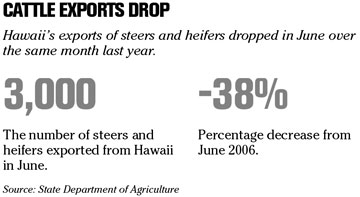 ---
Aloha to charter UH football flights
Aloha Airlines
will fly the University of Hawaii football team on charter flights to all five of the team's away games this year.
This is the seventh straight year that Aloha will be flying the team, and the first year that Aloha is providing charters for all the scheduled away games.
Charter flights this year will be to Monroe, La., for a Sept. 8 game against Louisiana Tech; Las Vegas for a Sept. 15 game against University of Nevada at Las Vegas; Lewiston, Idaho, for a Sept. 29 game against the University of Idaho; San Jose, Calif., for an Oct. 12 game against San Jose State University; and Reno, Nev., for a Nov. 16 game against University of Nevada at Reno.
Aloha also said that Fresno State University's football team will fly Aloha to its game against the Warriors on Nov. 10 at Aloha Stadium.
Horizon splits into 2 subsidiaries
Horizon Lines Inc.
, the state's second-largest ocean shipper, is restructuring its transportation and logistics operations under two wholly-owned subsidiaries, Horizon Lines LLC and Horizon Logistics LLC.
Former Hawaii resident Brian Taylor will serve as president of Horizon Logistics, which will be focused on integrated logistics services. Taylor, who recently held the position of senior vice president of sales and marketing at the company's headquarters in Charlotte, N.C., was vice president and general manager of Hawaii-Guam. He was replaced in February 2006 by Mar Labrador, who will stay in that position.
John Keenan will serve as president of Horizon Lines LLC and be responsible for all core ocean transportation services in the Alaska, Hawaii, Guam, Micronesia and Puerto Rico markets. Keenan's last role was senior vice president and chief transportation officer of Horizon Lines Inc.
ILWU seek hotel hiring guarantee
ILWU Local 142, the union that represents 450 workers at the Pacific Beach Hotel, said it is seeking a commitment from Corine Hayashi, president and chief executive of
HTH Corp.
, that all Pacific Beach Hotel workers be rehired with no loss in seniority, benefits, or other employment rights.
The workers were originally employed by the family run HTH Corp., which owned and operated the Pacific Beach Hotel for 37 years. On Jan. 1, HTH hired an affiliate of Outrigger Enterprises Group, PBH Management LLC, to run the hotel. At that time, the workers were transferred to PBH Management, with no change in their employment status.
On Friday, the workers were told their employment would be "permanently terminated" with Outriggers' PBH management. Outrigger Vice President Melvyn Wilinsky told the ILWU that the decision would be made by HTH.
---
BUSINESS PULSE