---
FAST FACTS HAWAII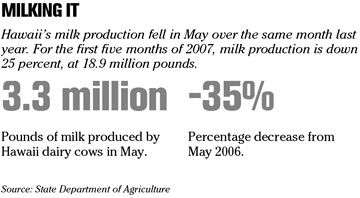 ---
Bankoh offers wireless banking
Bank of Hawaii
is partnering with
MShift Inc.
to introduce the state's first wireless mobile banking service on Sunday. Customers who subscribe to Internet access on their mobile phone or personal digital assistant will be able to access their financial accounts through the mobile service without bank charges.
Services available will be account summaries, transaction history, transfers between e-Bankoh accounts, online bill payments and access to the bank's Web site for branch and ATM locations, rates and services.
Customers can access their accounts at mobile.boh.com. For more information, go to www.boh.com/mobile.
Hoku signs construction contracts
Hoku Materials Inc., which is building a polysilicon plant in Pocatello, Idaho, said yesterday it has lined up more companies to help in the construction of the $260 million-plus facility.
It awarded a $120 million contract to JH Kelly LLC, a Washington-based general contractor, to provide construction services. The contract includes incentives of up to $5 million if certain construction schedule milestones, cost targets, and safety standards are met.
Hoku Materials, a subsidiary of Kapolei-based Hoku Scientific Inc., also awarded a contract to Stone & Webster Inc., a subsidiary of the Shaw Group Inc., to perform engineering, procurement and construction management services.
Pearlridge Center adds retailers
Pearlridge Center has added two new merchants this week and celebrated the relocation of another.
Gold Mart, a 1,398-square-foot jewelry retailer, reopened the first week of August in Uptown, on the second level, between Regis Hairstylists and Tapestries by Hauoli.
Noelani's Creations, a gift kiosk located Uptown, on the first level, in front of L'mour Nail & Beauty Salon, sells local themed ceramic trivets, mugs, plaques and other gift items. The store opened at the end of July.
A Fairy Princess Affair, a kiosk offering boy and girls costumes and dress-up accessories, opened in Uptown during the first week of August. The store is located on the first level in front of Payless Shoesource.
SuperGeeks expands to Hilo
SuperGeeks, which has three locations on Oahu, opened its first neighbor island store in Hilo on Aug. 31.
The computer repair, data recovery and networking company plans to provide on-site services to the home or office at the outset and then establish a Hilo SuperGeeks Rescue Center within the next year.
SuperGeeks offers flat fee rates that start at $75 for over the Internet support and a $149 flat fee to visit the home. Customers can schedule appointments by calling 935-5000 or go to www.SuperGeeks.net.
The company was founded in Honolulu in 1998.
[ HAWAII INC. ]
NEW HIRES / PROMOTIONS
» Wachovia Securities has named
Wesley Yamamoto
as Hawaii branch manager. He replaces John Van Scholten who has retired. He has been with the company for 13 years, recently serving as first vice president of investments and senior institutional consultant. He also serves as past president of the Investment Society of Hawaii.
» Accuity LLP has announced the following promotions: Darryl Nitta has been promoted to tax supervisor. He will oversee general tax compliance and consulting for corporations, partnerships and individuals. He has served the firm for five years. James Ota has been promoted to tax supervisor. He will be responsible for conducting research and development tax credit studies, engaging in audit defense assignments and preparing federal tax opinions and Hawaii Qualified High Technology Business comfort rulings. He has served the firm for four years.
» Outrigger Enterprises Group has announced the following new hire and promotions for its Japan sales division: Danny Ojiri has been promoted to vice president of Japan sales. He joined the company in 1998 as director of Japan sales and previously served Jetour Hawaii for 20 years. William Bethel has been promoted to director of Japan sales from Japan sales manager. He joined the company in 2002 and has previously served as a tour coordinator for JTB Hawaii, Japanese sales manager for Prince Resorts Hawaii and hotel assistant manager for Hawaii Prince Hotel. Kimiko Quan has been hired as Japan sale manager. She previously served as catering sales manager for the Ilikai Hotel and has also served at the Righa Royal Hotel in Fukuoka, Japan, Sheraton Moana Surfrider Hotel, and Kahala Mandarin Oriental.
» Prudential Locations has announced the following new agents: Ada Peroutka previously served as a full-time agent at Dower Realty and Fujisaki Realty and has more than 15 years of experience in sales and marketing. Cheryl Yoshimura previously served as a mortgage loan processor in Honolulu and Las Vegas and has two years of experience in residential sales.
» Starwood Hotels & Resorts Waikiki has announced the following promotions: Rick Mishima has been named front office manager for the Royal Hawaiian. He joined the company as a guest services manager for the Princess Kaiulani Hotel in 2005 and has more than 10 years of experience in the hotel industry. Gloria Cheung has been named hotel manager for the Moana Surfrider. She previously worked as senior human resources manager and has served the company for more than 10 years. Jon Ushijima has been promoted to manager of Asia sales from front office manager of the Royal Hawaiian. He joined the company as junior front office clerk at Sheraton Waikiki in 1997 and has also served as a guest service agent, assistant manager and manager of Japanese services.
Board elections
» The National Association of Insurance and Financial Advisors Honolulu chapter has announced its officers and directors for 2007-2008: Mike Magata, president; Robert Lawton, president-elect; Pearl Martin, vice president; Marc Miyama, secretary; Clayton Agena, treasurer; and Dennis Kim, national committee person. Directors include David Arakaki, Darin Inouye, John Seth, Nash Subotic, Gigi Fuller and Billy Pieper.
---
30-year mortgage rates dip
WASHINGTON » Rates on 30-year mortgages sank this week to their lowest point in two months, a dose of good news for people thinking about buying a home.
Freddie Mac, the mortgage company, reported today that 30-year, fixed-rate mortgages averaged 6.59 percent. That was down from 6.68 percent last week and was the lowest since early June, when rates stood at 6.53 percent.
Rates on 15-year fixed-rate mortgages dropped to 6.25 percent, from 6.32 percent last week. Rates on one-year adjustable-rate mortgages fell to 5.65 percent, compared with 5.69 percent last week.
---
BUSINESS PULSE