HONOLULU LITE EXTRA!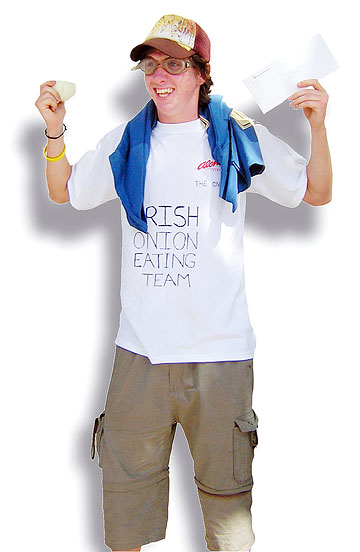 CHARLES MEMMINGER / CMEMMINGER@STARBULLETIN.COM
Dave Sheridan ate about a half-pound of raw onions in 60 seconds to win the Maui Onion Festival's onion-eating contest Sunday. He wore goggles to prevent tearing.
CLICK FOR LARGE
The raw truth
Our intrepid columnist is happy to place last in the Maui Onion Festival's eating contest
KAANAPALI, Maui » To be honest, when I agreed to take part in the raw-onion eating contest at the Maui Onion Festival on Sunday, I had no intention of deliberately trying to ingest an entire pound of raw onions. Are you kidding? A pound of raw onions?
My body might be a finely tuned trash compactor, but you have to draw the line somewhere. And besides, I've watched those contests on TV to see who can eat the most hot dogs or ribs or pizza or whatever. Besides being fairly disgusting, each contest also has its ringers ... professional competition food eaters. These food freaks are able to eat an entire Chevy engine block with no apparent physical discomfort.
So when I stood at the competition table with my 12 competitors, I had a plan. If I was going to lose, I was going to lose with style. A pound of onions sat in front of each of us (about two large Maui Kula sweet onions).
Contestants would have one minute to eat as much as they could. The contest began with the other contestants grinding on the onions like they were apples, shoving them in their mouths with both hands. But not me. I calmly unrolled a cloth napkin and tucked it into my shirt. Using a silver fork and knife I had smuggled into the contest, I calmly cut off a small piece of onion, savored the aroma under my nose and daintily placed the morsel in my mouth.
In the end, Dave "The Onionator" Sheridan, a geeky guy in goggles from the so-called "Irish Onion Eating Team," won, consuming about a half-pound of raw onions in 60 seconds.
I finished dead last. But I had my pride. And my digestion. And something of a miracle had occurred. Although I started off with a pound of onions, I finished with 1.02 pounds on my plate. I think ending up with more food than you started in a food-eating contest is some kind of record.
---
How sweet it was!
Exploring a festival devoted to an aromatic bulb
I'VE covered a lot of "festivals" in my time as a newspaper guy, a few of the weirdest being the Barnesville Pumpkin Festival in Ohio, where I saw a pumpkin as big as a strip-mining machine, and the Cadiz Mining Festival, where I saw a strip-mining machine as big as a small Midwestern town (Cedar Falls, Iowa).
So I was a little disappointed last weekend when I got to the Maui Onion Festival at Kaanapali and didn't see an enormous onion -- say, one the size of Molokai. The onion festival also seemed to be missing another presumed staple of all such galas: a festival queen. There was no pretty young lady dressed as an onion waving at people from the back of a red convertible. So I guess all the pretty young ladies in West Maui got off lucky there.
I FLEW into Kapalua on a sweltering hot Saturday morning, and my luggage flew in sometime later. Apparently it visited some other islands on the way to Maui. I was there because a friend of mine, Jon Farmer, a somewhat eccentric entrepreneur who once sold 90,000 cans of "Hawaiian air" and now runs a couple of Maui hot-dog stands that are manned, so to speak, by women in bikinis.
He said I should come to the Maui Onion Festival. I said, "Jon, the newspaper would never pay for me to go to Maui and hang out at an onion festival. I mean, if I were them, I wouldn't pay me to go loaf around on West Maui for two days." Jon said, "Why don't you ask?"
So, in a fit of self-confidence, I said to my editor, "There's no way you'd send me to the Maui Onion Festival, would you?" She said something like, "Sure. Why not? Bring back onions."
And so while my baggage apparently toured Lanai, I settled in at the Westin Kaanapali Ocean Resort Villas, one of those grand places right on the beach with dazzling amenities that make you feel guilty about people who have to live in Third World countries, but not for long.
AFTER a short shuttle ride to Whalers Village -- sort of like Aloha Tower Marketplace but without the Aloha Tower -- and I found myself in the heart of all things onion. Maui onion. Because you have to remember, this is the MAUI ONION Festival, not the Maui ONION FESTIVAL. (We are gathered here today, brothers and sisters, to worship the Maui Kula onion, that marvel of the edible bulb family of plants, which, when grown in the magical volcanic soil under a bright Hawaiian sun, kissed by rain from clouds floating over mystical Haleakala crater, produces a onion sweeter than ... OK, that's laying it on a bit thick. The point is that Maui Kula onions are about the sweetest in the world, sweeter than those Walla Walla Wannabes and Vidalia Vapids.)
Whalers Village is packed with people, and it is hot. Hot enough to fry an onion on the sidewalk. But you don't have to, because the Maui Onion Growers Association is helpfully deep-frying onion rings in several large woks.
Brian Otani of the Otani Onion Farm and Ricky Kametani of the Kametani Onion Farm (the names of the onion farms apparently are pretty basic) are coating raw onion rings with tempura batter and tossing them into the oil. But not too much batter.
"We're not selling the batter," jokes Ira Uradomo, of the, I presume, Uradomo Onion Farm. With 10,000 people expected over two days at the festival, the onion ring concession is, well, cookin'.
I'm a judge in a recipe contest in which professional chefs from local restaurants create amazing dishes, all using Maui onions in some way. Every entree is incredible, from the Crispy Maui Onion Wrapped Ahi to game hens sitting on an onion-and-cheese tortilla. The winner is Maui Onion Lamb Chops with an onion marmalade by chef Chris Napoleon of the Tiki Terrace Restaurant. How good was it? I picked it to win (and my fellow judges agreed), and I don't even LIKE lamb chops.
I competed (sort of) in the raw-onion eating contest. I came in last on purpose because I felt my internal organs would oppose me ingesting a pound of raw onions, even sweet ones. The winner was a strange little guy in goggles from Ireland, Dave "The Onionator" Sheridan, who, with tongue (not to mention pieces of onion) in cheek, averred, "Twelve months ago when I started training, I didn't think I'd be on this podium today."
SADLY, my buddy Jon was not having such a good time at the festival. His Weenies & Bikinis concession (featuring Maui Onion Mustard) did great business on Saturday, but he had to fire his two male helpers for making crude sexual remarks to his two bikini-clad servers. Guys are such idiots. So Jon couldn't open on Sunday and lost a couple thousand dollars. I suspect he would have fared better if he had dressed the girls in onion costumes.
My baggage arrived just in time for me to send it back to little Kapalua Airport for the flight home. I got back exhausted from working continuously while I was on Maui and never having a lick of fun or relaxation, even in the large Jacuzzi in my villa suite. Really. I hear Kaanapali Beach is beautiful, but I never touched a single grain of its lovely sand. Honest. And that $9.50 on my expense report was lunch, not a mai tai. I swear. I'm all business. And I've got nice box of Maui onions for my boss to prove it.
---
Charles Memminger's new book, "Hey Waiter! There's an Umbrella in My Drink!" is available at island bookstores and online. E-mail him at
cmemminger@starbulletin.com
.