---
FAST FACTS HAWAII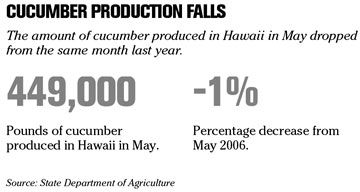 ---
HMSA earns highest quality rating
Hawaii Medical Service Association, the state's largest insurer, has been awarded the highest level of accreditation by the National Committee for Quality Assurance.
The insurer, which had 708,451 members at the end of March, said it remains the only plan in Hawaii to offer preferred provider organization and health maintenance organization health plans that have earned the highest levels of NCQA accreditation. NCQA conducts an assessment every three years to determine if plans meet the highest levels of accreditation.
Raiders fly Hawaiian for 8th year
The Oakland Raiders once again will use a Hawaiian Airlines charter to travel to their road games.
Hawaiian, which will carry the National Football League team for the eighth straight year, will fly the Raiders to nine road games in Seattle (preseason); Denver; Miami; San Diego; Nashville, Tenn.; Minneapolis, Minn.; Kansas City, Mo.; Green Bay, Wis. and Jacksonville, Fla.
The airline's in-flight service features extra-large meals that include fresh fruit, candy baskets and any special requests. Up to three first-run movies will be shown during each flight.
HMAA launches online service
Hawaii Management Alliance Association launched an online service yesterday that will allow members to access their health-plan information 24 hours a day.
After logging on to www.hmaa.com, members will be able to check the status of their claims, verify remaining deductible and out-of-pocket expenses, view the schedule of benefits, review the explanation of benefits, verify eligibility and request a new identification card.
HMAA serves more than 3,200 businesses statewide.
HCDA appoints interim director
The Hawaii Community Development Authority has appointed Teney Takahashi as interim executive director until a new one is hired.
Takahashi will assume duties carried out by departing executive director Daniel Dinell, whose final day is tomorrow. Dinell is returning to the private sector.
Takahashi has 30 years of experience in real estate planning and development, and has worked with HCDA for eight years as a manager and director of planning and development. He also has worked for Castle & Cooke Properties, Amfac/JMB and Princeville Corp.
Rehabilitation Hospital chief named
Edward Clair Jones, formerly the system director of Sharp HealthCare Rehabilitation Services in San Diego, has been named president and chief executive of Rehabilitation Hospital of the Pacific.
Jones replaces interim president and CEO Dr. Fujio Matsuda, who had been filling in until a permanent replacement was found.
Matsuda had taken over for Stuart T.K. Ho, whose father Chinn was among an investors group that owned the Honolulu Star-Bulletin in the 1960s. Ho, who retired last month, had been president and CEO of Rehabilitation Hospital since June 1, 2002.
[ HAWAII INC. ]
NEW HIRES / PROMOTIONS
» Kuakini Health System has named
Hubert Biete
as managing director of facilities management. He will oversee facility operations, including biomedical engineering, environmental services, maintenance and security services. He previously served as director of facilities at Kapiolani Medical Center at Pali Momi and has more than 10 years of experience in facilities management of Hawaii-based health care organizations.
» Coldwell Banker Pacific Properties has hired Michael Moody as marketing director. He will be responsible for the company's marketing and advertising and will direct the marketing service center. He has 10 years of experience in Hawaii's advertising industry.
» First Hawaiian Bank has announced the following promotions: Eliza E. Young has been promoted to vice president and manager of the bank's credit services center and credit operations and files. She will provide financial analysis and banking review preparations for commercial lenders. She joined the bank in 1990 as a credit analyst. Alice "Ali" J. Kang has been promoted to private banking officer in the private banking division. She will create financial solutions to meet client objectives. She joined the bank in 2001 as a personal banking associate.
» Finance Factors has announced the following new hires and promotions: Tameron Hodges has been hired as vice president of human resources and and administration services. She will oversee all human resources and administrative functions and assist the company in strategic planning initiatives. She has served in the human resource industry for 22 years. Corrine Tanna has been hired as vice president and marketing manager. She previously served as vice president and manager of advertising and brand management for Central Pacific Bank and has more than 20 years of financial service marketing, advertising and management experience. Benson Choo has been promoted to vice president and information technology manager. He currently serves as vice president of the Information Systems Audit and Control Association and has more than 15 years of information systems experience. Alexander Seto has been promoted to assistant vice president and assistant controller. He will oversee financial and management reports, accounting supervisors and financial analysts, and security maintenance of accounting systems applications. Sheri Matsumoto has been promoted to direct marketing manager. She will be responsible for developing direct marketing strategies, including advertising, public relations and promotions, to achieve the company's business objectives.
» Team Real Estate has announced the following new hire and promotions: Wendy Alcantra has been hired as asset manager for Leeward and Central Oahu. Tammi Keao has been promoted to assistant asset manager of long term rentals. Allison Vierra has been promoted to assistant asset manager for short-term rentals.
---
Jolt of profit
Starbucks Corp. said yesterday its fiscal third-quarter profit climbed 9 percent, in spite of rising dairy prices and stalled U.S. store traffic.
Earnings rose to $158.3 million, or 21 cents a share, from $145.5 million, or 18 cents a share, during the same period last year.
---
BUSINESS PULSE