WARRIOR FOOTBALL
Early fumble didn't stop Brennan
The Warriors' senior quarterback is a much better person, and player, despite his troubled past
STORY SUMMARY »
SAN JOSE, Calif. » On the rare occasions that the Hawaii pass protection broke down last year, Colt Brennan often scrambled for a first down. He has learned how to turn negatives into positives.
He does it off the field, too.
His uncharacteristic brush with the law more than three years ago in Colorado is ancient history to UH fans. But as the Warriors quarterback enters the consciousness of college football nationwide as a legitimate Heisman Trophy candidate, the past resurfaces.
Such was the case at the Western Athletic Conference Media Preview last week, and Brennan didn't flinch.
Brennan -- who also spent 4 hours with a New York Times reporter Friday -- is an engaging interview subject, even on subjects that don't necessarily put him in a positive light.
Brennan talks about his journey from being Matt Leinart's high school backup to college superstar status as the Star-Bulletin continues its weekly features on UH football players preparing for the upcoming season.
"From where I started in college football to a Heisman Trophy candidate is ... unreal, a surreal feeling. I just want to do it right," Brennan said.
Today's coverage also includes capsules on the nine WAC teams in predicted order of finish.
STAR-BULLETIN
---
Making History
Colt Brennan's passing statistics:
| | | | | | | |
| --- | --- | --- | --- | --- | --- | --- |
| Year | G | Comp | Att | Int | Yds | TD |
| 2005 | 13 | 350 | 515 | 13 | 4,301 | 35 |
| 2006 | 14 | 406 | 559 | 12 | 5,549 | 58 |
| Totals | 27 | 756 | 1,074 | 25 | 9,850 | 93 |
Notes: Brennan led the NCAA in 2006 in total offense (422.5 yards per game), passing efficiency (186.0), points responsible for (27.7), completion percentage (72.6), passing yards per game (396.4), total passing yards (5,549) and touchdown passes (58 -- a single-season record).
---
FULL STORY »
SAN JOSE, Calif. » Dodgeball was never Colt Brennan's game.
So when the inevitable occurred and questions about the one dark spot in his past came up Monday at the WAC Media Preview, the Hawaii quarterback and Heisman candidate met them head on.
"After I got sentenced I lost my scholarship (offers)," Brennan said, while discussing an incident at Colorado in 2004 in which he entered a coed's room uninvited.
It resulted in a week in jail for trespassing and burglary and probation scheduled to end in another year and a half. It didn't help that the Buffaloes were in the midst of recruiting and sex scandals, and Brennan was almost immediately dismissed from the team.
After a year at Saddleback (Calif.) Junior College, he was invited to walk on at Hawaii. He could've walked off to the NFL following a tremendous 2006 campaign, but opted to remain for his senior season.
"I like the person I'm becoming in Hawaii," Brennan said in January when he chose to remain a Warrior.
And so do the UH fans. They can't get enough of Brennan, as accommodating off the field as he is dominating on it.
Regardless of his good deeds and great plays before and since Colorado, Brennan knows he is in for another barrage of similar questions when his senior season at UH is completed. And, in a way, he looks forward to it.
"It will be an issue once I become a candidate for the NFL," Brennan told the assembled WAC writers, along with a couple of national reporters. "It will resurface. I'm going to try to use it as a chance to really clear my name. I really got dragged through the mud by the media. A lot of stuff that was said was untrue. Articles that came out after I was sentenced were galaxies away from what I got charged with."
SEND US YOUR
THOUGHTS,
OPINIONS
Have you felt you had something to say about the University of Hawaii football team but never had a chance to express it? Well, now you do.

In our upcoming Warrior football special section, fans of June Jones and Co. will have an opportunity to write down their thoughts and ideas in the letter section of the magazine. Feel free to write 250 words or so on anything you would like.

Do you think quarterback Colt Brennan has a shot at the Heisman Trophy? Then tell us why or why not. If Hawaii runs the table and winds up 12-0 by season's end, is a Bowl Championship Series game in their future? Jones' contract runs out next summer, does he deserve a $1 million a year salary? Write down why or why not.

You can e-mail your letters to us at sports@starbulletin.com or write them down and mail them to us at Honolulu Star-Bulletin, 500 Ala Moana Blvd., Building 7, Suite 210, Honolulu, Hawaii, 96814 by Aug. 10. We look forward to hearing from you.
CURIOSITY ABOUT something that happened three years ago would have ended long ago. But with every five-touchdown game last year (he had seven of them, plus one with six), Brennan became a bigger figure on the national football scene. When he was done in 2006, the player who couldn't get a major college to give him a scholarship out of high school put together a statistically stupendous season, finishing sixth in the Heisman Trophy voting.
His 58 touchdown passes broke the NCAA record, one of seven significant offensive categories in which he led the nation. The Warriors finished 11-3, tying the school record for wins.
"In my opinion, Colt Brennan is probably the best quarterback in the nation. He can make every throw and you have to respect that," San Jose State All-America cornerback Dwight Lowery said. "And he can run. He brings a lot to the table."
Yes, he can scramble on the field. But Brennan won't run from his past off it.
He embraces it, accepting it philosophically while continuing to fight for his reputation.
"The biggest thing (learned) is probably humility. Walking away from that ... you can't embarrass me, you can't humiliate me," he said. "I have nothing to hide. There's no doubt what happened, the position I put myself in, I've got no one to blame but myself. But a lot of things that followed just weren't right.
"You're meant to experience misfortune. You're meant to deal with stuff that's just not right. It's just how you deal with it and how you move on with your life. I think people who want to talk about my character, should look at what I've done since then. Let the actions speak for themselves."
His words send a loud message, too. Here's what Brennan said when asked for his career highlight:
"Watching this past spring when everybody like Samson (Satele) and Nate (Ilaoa) signed contracts and got their money. We had a big barbecue for Samson before he left. To see those guys and last year's success really pay off for the guys and hopefully a foundation set for years to come, that was special."
UH coach June Jones is used to the team-first attitude from his most celebrated player.
"Colt's such a team guy. He's a great kid and a very talented player. Most of all he's a winner. When the game starts he's as excited as anyone to play football," Jones said.
Why did he stay when he could've gone to the NFL and made millions?
"I kind of think it's the camaraderie, staying in the same place for three years," Jones said. "The consistency, being in one place meant something to him. He wanted to continue to enjoy that. It says a lot about him."
Brennan started just one season at Mater Dei High School because he was behind Matt Leinart. Then one season at prep school in Massachusetts ... redshirt at Colorado ... one at Saddleback.
Now three at Hawaii.
"For the first time in my life I feel like a veteran," he said. "I never experienced that, even in Pop Warner. Every team it was one year. Now with two years and a comfort level I can practice leadership skills. With Samson, Nate, Leonard (Peters) and Tala (Esera) gone we have a lot of leadership roles to fill."
Brennan also returned to improve his pro stock.
"(The scouts) said they want a bigger kid," he said. "But without a doubt the main reason I came back was the experience of last year, all the fun times."
Brennan, who is close to 6-foot-3, said he weighs right around 205 pounds now. He hopes to get to 210 by the time the combine comes around next year.
"I've made a commitment to lifting. I do enjoy it to an extent. I've just never been a very strong kid. I feel bad when I'm taking so much weight off when it's my turn," he said.
At Jones' suggestion, Brennan also worked on his deep passes this summer.
"He's already good at it, but it's an area he can improve on," Jones said.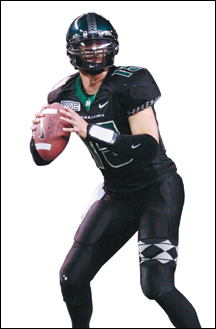 BRENNAN AND Boise State running back Ian Johnson have become friendly enough where they can trade good-natured barbs. Last week Johnson jokingly flaunted his ESPY award while feigning disdain over sharing the WAC spotlight with Brennan.
"First of all, congratulations to Ian on his ESPY. Really," Brennan said, when given his chance to fire back. "And I really missed him at the Walter Camp All-American banquet and I especially missed him at the Home Depot College Football Awards Show. Maybe next year we can meet up."
Such lightheartedness comes from college athletes who are confident in their abilities and proud of their accomplishments, but with enough perspective to know it's all a game, every bit of it, and to enjoy that fact while they can. The business part can come later, and Brennan decided to hold off on it for a year. Johnson went as far as to say he won't sacrifice stability and peace of mind to chase an NFL dream.
As Brennan described his post-Colorado, pre-Hawaii travails, someone asked him why he isn't bitter.
"I just take it out on the field I guess," he said. "I learned you can't hold grudges. If you want to prove people wrong you have to go out there and have a lot of success. I just realized that focusing on myself on being a good person and on the football field would do more for me than being bitter."
UH quarterbacks coach Dan Morrison said Brennan has matured immeasurably from when he first met him more than two years ago.
"It's one of the things that sets him apart. And much of his growth is due to the journey. Who he's become is partly tied to difficult times," Morrison said. "Everyone handles it differently, some disastrously so. Colt's a shining example of turning adversity into positives."
COMING UP: WAC 2007
Here is a capsule look at the WAC heading into the 2007 season. The teams are listed in predicted order of finish by Star-Bulletin UH football beat writer Dave Reardon.
1. Hawaii
Last year: 11-3 (7-1 WAC, 2nd), beat Arizona State in Hawaii Bowl, 41-24; 24th in coaches poll.
Returning starters/lettermen: 15/70.
Coach: June Jones (9th season, 64-40).
Marquee player: QB Colt Brennan (NCAA record 58 TD passes, 6th in Heisman voting, WAC Off. POY).
Big games: at San Jose State (Oct. 12), Fresno State (Nov. 10), at Nevada (Nov. 16), Boise State (Nov. 23)
Quick Take: If the defense improves even a little from 2006 and the offensive line transitions cleanly from its loss of three starters, the Warriors do indeed have a legitimate chance to win every outing in their weak 12-game schedule. But tough road challenges await, and UH's last two losses to Boise State are because of special teams miscues.
2. Boise State
Last year: 13-0 (8-0 WAC, 1st), beat Oklahoma in Fiesta Bowl, 43-42; 5th in AP poll, 6th in coaches.
Returning starters/lettermen: 12/38.
Coach: Chris Petersen (2nd season, 13-0).
Marquee player: RB Ian Johnson (Led nation in scoring, 2nd in rushing, 8th in Heisman voting)
Big games: at Washington (Sept. 8), at Fresno State (Oct. 26), at Hawaii (Nov. 23)
Quick take: The Broncos lose a lot of players, including three-year starting QB Jared Zabransky. But Johnson, the OL (including preseason All-American LT Ryan Clady) and much of the DL return intact. Don't forget S Marty Tadman, who is the nation's active leader in INTs (12) and INT TD returns (3). This squad not as deep as previous BSU teams, but still a solid shot at a sixth straight WAC title.
3. San Jose State
Last year: 9-4 (5-3 WAC, 3rd), beat New Mexico in New Mexico Bowl, 20-12.
Returning starters/lettermen: 15/43.
Coach: Dick Tomey (27th season, 170-122-7 overall/3rd season, 12-12 at SJSU).
Marquee player: CB Dwight Lowery (9 INTs and various All-America recognition in 2006. Preseason WAC Def. POY).
Big games: at Arizona State (Sept. 1), at Kansas State (Sept. 8), at Stanford (Sept. 15), Hawaii (Oct. 12), at Fresno State (Oct. 20), at Boise State (Nov. 3).
Quick take: Did Pat Hill draft this schedule? The Spartans may be worthy of it if they remain healthy. They've got lots of talented, experienced returnees from last year's breakout team, including Lowery, QB Adam Tafralis, RB Yonus Davis, LB Mat Castelo and P Waylon Prather. But some inexperience and lack of depth on both front lines could do them in.
4. Fresno State
Last year: 4-8 (4-4 WAC, 5th), first losing season since 1998.
Returning starters/lettermen: 15/47.
Coach: Pat Hill (11th season, 76-51).
Marquee player: DE Tyler Clutts (five of 16 career sacks last year).
Big games: at Texas A&M (Sept. 8), at Oregon (Sept. 15), San Jose State (Oct. 20), Boise State (Oct. 26), at Hawaii (Nov. 10), Kansas State (Nov. 24).

Quick take: An OL that returns four starters, including three-year man Ryan Wendell, is a big reason most expect the Bulldogs to bounce back hard, despite another killer schedule. QB Tom Brandstater needs to improve on 13-14 TD/INT ratio and a replacement must be found for RB Dwayne Wright (1,462 rushing yards in '06).
5. Nevada
Last year: 8-5 (5-3 WAC, 3rd), lost to Miami in MPC Computers Bowl, 21-20.
Returning starters/lettermen: 14/44.
Coach: Chris Ault (23rd season, 185-78-1).
Marquee player: LB Ezra Butler (Led WAC with 17.5 tackles-for-loss in 2006, led Pack with 71 tackles).
Big games: at Nebraska (Sept. 1), at Boise State (Oct. 14), Hawaii (Nov. 16), at San Jose State (Nov. 24)
Quick take: Ault claims his team is young, but the defense is loaded with experienced players, two-deep with guys who have started at some spots. QB Caleb Rowe and other playmakers are gone, but a solid OL, featuring C Dominic Green and G Charles Manu, may help alleviate that. Sophomore Nick Graziano is the likely replacement for Rowe.
6. New Mexico State
Last year: 4-8 (2-6 WAC, 7th)
Returning starters/lettermen: 19/47.
Coach: Hal Mumme (17th season, 101-84-1 overalll/3rd, 4-20 at NMSU).
Marquee player: WR Chris Williams (led nation in receptions with 7.67 and yards with 117.9).
Big games: at Auburn (Sept. 22), at Boise State (Oct. 7), at Hawaii (Oct. 27).

Quick take: Mumme says this is the year defensive wizard Woody Widenhofer's wisdom kicks in and the Aggies stop somebody. If the defense improves even just a little, QB Chase Holbrook (second in nation with 378.4 total offense. No INTs in last 179 passes) along with Williams and crew could lead NMSU to its first bowl game since 1960; other than Auburn, the nonconference schedule is relatively benign.
7. Louisiana Tech
Last year: 3-10 (1-7 WAC, 8th)
Returning starters/lettermen: 18/50.
Coach: Derek Dooley (1st season).
Marquee player: RB Patrick Jackson (third in WAC, seventh nationally with 144.8 all-purpose).
Big games: Hawaii (Sept. 8), at California (Sept. 15), at Fresno State (Sept. 29), at Boise State (Oct. 20), at LSU (Nov. 10).
Quick take: Dooley, son of Georgia coaching legend Vince Dooley, said the Bulldogs will go back to basics with a run-first approach, but won't be afraid to spread it out and throw if that's what the opposing defense allows. As usual, the schedule is murderous. Ten defensive starters return, but they allowed 6,282 yards last season in 13 games.
8. Idaho
Last year: 4-8 (3-5 WAC, 6th)
Returning starters/lettermen: 14/24.
Coach: Robb Akey (1st season).
Marquee player: CB Stanley Franks (9 INTs for .75 per game led nation).
Big games: at USC (Sept. 1), at Washington State (Sept. 15), Hawaii (Sept. 29), at Boise State (Nov. 17), Utah State (Nov. 24).
Quick take: Why is USC a big game? Because Idaho needs to come out of it without serious injuries after Akey sent 17 players on their way in the offseason. Why is Utah State a big game? Because it could be the only WAC win for either team. LB David Vobora (134 tackles in '06) is one reason for Idaho to believe in a better season.
9. Utah State
Last year: 1-11 (1-7 WAC, 8th).
Returning starters/lettermen: 19/36.
Coach: Brent Guy (3rd season, 4-19).
Marquee player: WR Kevin Robinson (20 career TDs including 4 on returns).
Big games: at Oklahoma (Sept. 16), at Utah (Sept. 29), at Hawaii (Oct. 6), at Idaho (Nov. 24).
Quick take: The entire defense returns, including LB Paul Igboeli, the WAC Freshman of the Year. But is there anyone to get Robinson the ball? Promising QB Riley Nelson went on a mission after starting as a freshman, and former starter Leon Jackson has suffered from injuries and inconsistency. Guy's job security demands marked improvement.