Treasured Sounds
The Gamba Gathering at UH celebrates the viola de gamba
Some old, rare and unusual musical instruments will be on display and in concert this week at the University of Hawaii Music Department.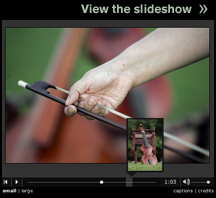 The Pan-Pacific Gamba Gathering, which will run from Tuesday to Aug. 4, will be a celebration of the viola de gamba, a bowed string instrument popular in 16th- to 18th-century Europe that is making a comeback.
Most of today's instruments are replicas of older ones. But Catherina Meints, a professor of cello and gamba at the Oberlin Conservatory of Music in Ohio, will be bringing her "Amber" gamba, an instrument made around 1680 by German builder Joachim Tielke.
"Tielke is noted for his extraordinary decorations on the bodies of the instruments, as well as the fingerboards and tailpieces," Meints said in an e-mail. The "Amber" came to the United States in the 19th century and, like many antique viols, was changed into a four-string cello.
"When we were able to buy it in 1967, we had it restored back into a six-string viola da gamba with new decorations for the fingerboard and tailpiece. It has a wonderful sound and has been my primary six-string viol since then."
The Gamba Gathering also will feature a demonstration of replicas of the earliest known violas de gamba, built for the English gamba ensemble Rose Consort, based on a 1497 painting by Italian artist Lorenzo Costa.
John Bryan, a member of the Rose Consort, said the group performs music from the early Italian repertory and wanted instruments with roots in the same time period and region of Italy. He characterized their sound as "light, serene, with a slightly reedy timbre, able to sing sweetly but also to make more gutsy articulations, too."
Esha Neogy, a graduate of the UH Music Department who is helping organize the gathering, said she was amazed that these artists were willing to bring their prized instruments to Hawaii.
"I kept asking them, 'Are you sure you want to bring them all the way out here?'" she said. "It's going to be quite a collection."
Ancient sound, modern appeal
The European explorers of the 15th and 16th centuries came to the Pacific to exploit and export its riches, but they also imported some of their cultural values, as well. Christianity is among the most evident of these imports, but another is their music, particularly their musical instruments.
Hawaii benefited from this in the form of the ukulele, derived from a Portuguese lute. Elsewhere in the Pacific, the Portuguese brought another string instrument, the viola de gamba -- the viol "of the legs," an upright, bowed instrument that was the precursor of the modern-day cello.
Those long-ago and far, faraway connections will be brought together this week at the Pan-Pacific Gamba Gathering at the University of Hawaii at Manoa. More than 70 performers, scholars and enthusiasts will meet for demonstrations, seminars and concerts. Participants are coming from as far away as England, Australia and Japan.
"The gamba is really becoming a world instrument," said Esha Neogy, who studied cello at UH and is one of the organizers of the meeting. "Not only in terms of people learning the instrument, but in places like Japan, you have people composing new music for old instruments."
The gamba was in its heyday in 16th- to 18th-century Europe and was especially popular among small groups. Composers who wrote for the instrument include Monsieur de Saint-Colombe, Marin Marais, John Dowland (whose music was recently featured on a Sting album) and Johann Sebastian Bach. A set of Bach sonatas for gamba and harpsichord are now popularly performed on cello and piano. The gamba fell out of favor when composers like Beethoven and Mozart began to write for larger orchestras in larger concert halls, requiring louder instruments.
Almost three centuries later the gamba is enjoying a surprising revival. Fueled by the authentic-music movement, in which music is performed on period instruments and in historically accurate style, amateur and professional musicians alike are drawn to the instrument.
Instruments are being made not only in Western European nations, but in Japan and even China. Artists ranging from classical composer Tan Dun to pop star Elvis Costello have composed works for the gamba. The instrument was featured in the 1991 French movie "All the Sorrows of the World," a romantic period-piece drama about a gamba player's love for his dead wife.
What is the attraction? The answer seems to be in the quality of its sound and the music written for it. Combined, the instrument is the essence of inclusivity.
"You don't have to be a virtuoso to have fun playing it," Neogy said. "And with the variety of music composed for it, you can always find something that's simple enough to play. ... It's a collaborative thing. The music is written for consorts (groups), and you can help each other out."
The sound of the instrument helps convey this quality. With gut strings, a more delicate construction than a modern-day cello and a lighter bow, the gamba produces a clear, translucent sound that, in its most expressive moments, can create everything from a joyous to a weeping effect.
"It has a lighter, thinner sound than modern instruments, but that lets you hear how the different lines weave together," Neogy said. "It doesn't have that heavy, Western colonial feel as much.
"It's a very relaxing instrument to play. The way you hold it, it's like you just let your arm hang off the bone."
Donald Womack, a professor of composition at UH-Manoa, composed a piece for the gamba three years ago when a Japanese group, the Yukimi Kambe Viol Consort, visited UH.
He was attracted to its "rich, pure, gorgeous and unique sound," Womack said. "It doesn't have the power of modern cello or other string instruments. For lack of a better word, it's a delicate, fragile sound."
With six or seven strings and tuned like a guitar, the gamba has a wide range, and instruments come in sizes from bass to soprano. Its fretted guitarlike fingerboard makes it a bit easier for beginners to play, since it's not as difficult to find the proper pitch, said Geoffrey Naylor, a professional musician on Maui who also plays recorder and harp.
"It is a good adult amateur instrument, which is just what it was in the 17th century," he said. "It's possible to play beautiful music in a string consort without as much pure talent, and without the hours of practice needed to learn the complexities of chamber music. It was a social thing."
The gathering at UH will feature events from concerts to demonstrations and discussions. With the gamba being such an old instrument, aficionados can get hung up on such minutiae as appropriate tunings and bowing techniques. "It's unusual to have such variety in one conclave," Neogy said. "Some of the gatherings have been very academic; some featured a lot of concerts. This one has everything."
Given the popularity of the instrument across the Pacific, it seemed natural to explore other similar Asian instruments as well, Neogy said. "We're looking at other string, underhand-bowed instruments, like the Chinese 'erhu.'"
In addition, local slack-key guitarist and ukulele player Ron Loo will explore the crossover potential of the instrument in a session with gambist Tina Chancey from Virginia. "I think we could riff on some blues and then see where we go from there," Chancey said.
Loo, who has worked with bluegrass musicians on the slack-key style, said the gamba helps him understand how music for his own instrument developed. He was planning his first session on gamba last week. "It's going to be an interesting experience for both of us," he said.
"We're going to breaking new ground. This kind of cross-cultural effort has not been breached before."
PAN-PACIFIC GAMBA GATHERING
Except as noted, performances are at the UH-Manoa Music Department, 2411 Dole St., primarily in Room 36, which also serves as information center. For a full listing of events, visit www.vdgsa.org/PPGG.

PRE-CONCERTS
» Rose Consort of Viols: 4 p.m. today, Atherton Performing Arts Studio, 738 Kaheka St. History and demonstration of instruments. Tickets: $20, $10 students. Call 955-8821.
» Rose Consort of Viols with Bach Chamber Choir: 7:30 p.m. tomorrow, Lutheran Church of Honolulu, 1730 Punahou St. English music from 16th and 17th centuries. Tickets $20, $15 students and seniors. Call 941-2566.
» Ho'ohui Concert featuring the Viola de Gamba: 7 p.m. Tuesday, Orvis Auditorium, UH-Manoa. Introductory concert. Free.

WEDNESDAY
» Earliest gambas: 8:30 a.m. John Bryan discusses and demonstrates earliest known gambas, based on a 1497 painting.
» Shaun Ng: 12:30 p.m. Malaysian-Australian gambist plays early viol music, his own compositions and "fusion" pieces. Free.
» Convivio and American Seat: 7 p.m. Australian-New Zealand performers play music from early 17th century and new works by American composers. Free.

THURSDAY
» Lyra viol and slack-key guitar: 4 p.m., Room 108. Gambist Tina Chancey of Hesperus and slack-key guitarist Ron Loo perform together; $10.
» Rose Consort and Les Voix Humaines: 7 p.m., Orvis Auditorium. Rose Consort performs on replicas of earliest viols; Les Voix performs 18th-century French chamber music.

FRIDAY
» Catherina Meints and Backgammon Gambas: 7 p.m., Orvis Auditorium. Backgammon Gambas performs Australian music for five gambas; Meints performs Bach sonatas on a 1680 Tielke gamba with harpsichordist Webb Wiggins. Free.

SATURDAY
» Hesperus: 12:30 p.m. The group demonstrates world music, pop, jazz, rock and other musical genres performed on the gamba. Followed by concert and a jam session open to all instruments. Free.
» Introduction to Early Music: 1:30 p.m., Room 108. Demonstration of music and dance from Bach's time and before, geared toward families. Free.
» Hesperus and Yukimi Kambe Viol Consort: 2:30 p.m., Orvis Auditorium. Hesperus performs Renaissance pieces. Yukimi Kambe from Japan will play pieces chosen by the audience. Free.