HiLIFE
Let's groove!
"Destination: Groove Dance Hawaii" offers isle hoofers the opportunity to win dance lessons and private auditions on the mainland
A small group of young dancers is on stage at Paliku Theatre, following carefully choreographed moves that have a lyrical, soulful theme. Suddenly, they all go freestyle. All are hoping that in a short, precious period of time, something expressed in their faces, arms and legs -- their whole being -- will win over the four judges.
'Destination: Groove Dance Hawaii'
Videotaping: 10 a.m. to 5 p.m. Sunday and Aug. 5

Place: Paliku Theatre, Windward Community College, 45-720 Keaahala Road

Admission: Free

Call: 947-5736

On TV: 7 p.m. Sundays beginning Sept. 16 on KHNL
The elimination contest "Destination: Groove Dance Hawaii," is whittling down, week by week, a field of 12 to one winner.
The brainchild of local-born dancer Christine Yasunaga, "Destination" will not air until mid-September on KHNL, but the public is invited to attend the last two Sunday tapings of the show at the Windward Community College theater. Those who attend will join an enthusiastic audience of family and friends shouting support for their favorites.
But if you do go, Yasunaga asks that you don't give away who's in the contest and who will be the winner. TV viewers of "Destination" will be able to vote for their favorite dancer online at destinationgroove.com each week.
Given the national success of "Dancing with the Stars" and "So You Think You Can Dance," it's no surprise that a local variation would be conceived. It's Yasunaga's intention to "bring choreographers here to help the local dancers, and with this show, give Hawaii talent some broader exposure."
"Since I've been back from the mainland, I've noticed that there's a ton of talent here. And it seems that the dancers that Janet Jackson and Madonna have had, there was always someone from here performing with them."
After auditions of 60-plus dancers at the Tropics Showroom at the Hilton Hawaiian Village, 12 dancers were chosen. Each week, on the Friday before the Sunday tapings, they learn different styles of dance in rehearsals with guest choreographers.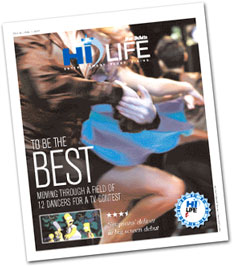 A 1989 'Iolani School graduate, Yasunaga also participated in the Punahou School dance program, and is now a dance teacher on both campuses. On the mainland, she did her fair share of work with various dance companies in Hollywood and at Radio City Music Hall in New York. She also performed on Broadway in the original run of "Disney's The Lion King," and revivals of "The King and I" and "Flower Drum Song."
"Working as a pro on the mainland, I was able to call in favors from other dancers and choreographers I knew to help with the show out here in Hawaii," Yasunaga said.
Now she finds herself hard at work in a new capacity as a television producer. Last Sunday's videotaping schedule included three shows, each with a different dance theme: lyrical, Latin and something called Polynesian/Modern.
Another dancer with local ties, Carrie Ann Inaba, a judge on "Dancing with the Stars," is among Yasunaga's supporters. "We talked for a year-and-a-half about this show. In fact, I was able to get her boyfriend here as one of the guest judges," Yasunaga said.
Artem Chigvintsev -- who shares a new house with Inaba in Los Angeles -- said having been a contestant once himself (a finalist in the first season of "So You Think ..."), he understands what the dancers are going through.
"I was nervous, I was struggling (on that show)," he said. "And when I knew I was going to be a judge, I even asked Carrie beforehand for some advice. I don't want to be really mean.
"There are two sides to dance, technique and performance. I believe technique is the backbone to dance, but the performance has to be done extremely well. Today, I want to see the passion in their eyes. Considering all the time and effort they've put in rehearsals to prepare for today, I want to see that they want to win."
Principal judge Marion Morrison, casting director for Walt Disney World, had both Yasunaga and Inaba as students during her 12-year tenure at Punahou, and she said her involvement in "Destination" keeps her in touch with a new generation of dancers.
"My perspective is that the styles have changed, with many more dance schools and development programs out there. The product is really quite fine now and overall technique is sound. ... But the market (for dancers) here is small, and they need to go elsewhere to grow."
That opportunity will be offered to the competition's winner -- prizes include a week's schooling at the Millennium Dance Complex in L.A. and private auditions for Walt Disney World Florida and the Broadway run of "The Lion King."
Show director Scott Culbertson said that "Christine is doing this show for the right reasons. She's doing it for the dance community here, and sees what the future can hold for them. ... It's her vision, it's her baby."