| | |
| --- | --- |
| | Island Mele |
---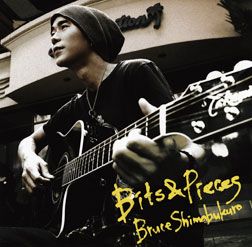 Bits & Pieces
Bruce Shimabukuro
(Sony Music Japan International Inc. SICP 1495)
Bruce Shimabukuro has been largely known until now as "Jake's younger brother," but with his second album, Bruce makes it clear that he is not a musical clone.
Bruce establishes himself as an articulate singer-songwriter with the opening "You Could," and continues with four more original snapshots of romance. Electric guitar defines the opening two numbers and positions Bruce as an edgy uptempo rocker. He then slips into an acoustic coffee-house style on the title track, brings in a drummer to boost the energy level on "Moving On," and finally displays his commercial appeal as a sensitive pop balladeer with his final vocal number, "I Lied."
Jake provides instrumental support as a sideman on several numbers, then steps forward as an equal partner on a new twin-ukulele arrangement of "Tokada," an instrumental from his old Pure Heart repertoire. It's a song the brothers sometimes play in concerts, and the updated version -- two ukuleles, no other instruments -- distills the melody to its essence.
A second instrumental duet, "A New Day," is included on the Japanese version of the album, and may be available here as a download.
---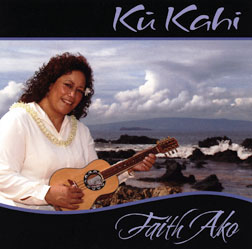 Ku Kahi
Faith Ako
(Meleohana Records - No serial)
Expatriate islander Faith Ako writes in the liner notes of her debut album that she embraced Hawaiian music after moving to the mainland, and that she's dreamed for years of recording these songs. Bravo! Ako has a lovely voice, and producer Tarvin Makia wisely emphasizes traditional Hawaiian instruments over electronic keyboards and synthesizers.
Ako excels at doing Hawaiian standards in traditional nahenahe (soft, melodious) style. "Papalina Lahilani" and "Pua 'Ahihi" are two of her best choices. Both are beautifully done.
She also pays homage to Steve & Teresa with a conventional halau-friendly remake of " 'Uwehe 'Ami and Slide," and does an outstanding job on a gorgeous medley of three hapa-haole songs that celebrate the beauty of Kauai.
She includes the text and translation of the chant that opens the album, but alas, not for the one original song in the collection. And it must be the "dream come true" thing that inspired her to record acoustic IZ-style takes on "Somewhere Over the Rainbow" and "What a Wonderful World."
An unlisted "ghost track" recording of "You Make It Hard," recorded with a second unidentified vocalist, ends the album on an enigmatic note.
---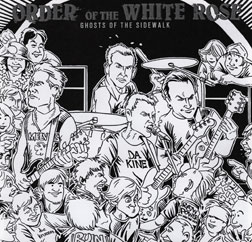 'Ghosts of the Sidewalk' and 'Seeds of Destruction'
Order of the White Rose
(Hawaiian Express)
Jesus noted in the Bible that giving a person a fish feeds them for a day, while teaching them to fish feeds them for a lifetime. But what do they eat while they're learning? Maui-based punk band Order of the White Rose is doing something to solve that problem by teaming up with Jason Miller and Hawaiian Express Records to release this limited-edition 45-rpm vinyl single as a fundraiser for the Hawaii Food Bank on Oahu and Maui.
The band rocks hard on both sides. "Ghosts of the Sidewalk" expresses the feelings of a street person who feels the scorn of society but is willing to "... sacrifice my dignity/Just so you'll see me."
"Seeds of Destruction" offers a far more radical message in posing the question, "Who owns the food/While the people are starving?" But is armed violence a viable solution to problems of food distribution?
The vocal tracks for both songs are buried deep in the final mix, but the band helps make the message accessible by including most of the lyrics in the record cover. To order visit www.hwnexp.com.
John Berger
, who has covered the local entertainment scene since 1972, writes reviews of recordings produced by Hawaii artists. See the Star-Bulletin's Today section on Fridays for the latest reviews. Reach John Berger at
jberger@starbulletin.com
.