Wu-Tang tickets on sale this weekend
AS WAS first reported in this column on July 13, legendary hip-hop collective the
Wu-Tang Clan
will perform in Honolulu for the first time in a decade on Sept. 1 at the Blaisdell Arena.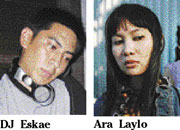 But don't believe the hype -- despite rumors indicating otherwise, just the Wu-Tang, Bone Thugs-N-Harmony and MC Supernatural have been confirmed to attend. The only hope fans have left is a line from the official press release for them to "stay tuned for further announcements regarding Rock The Bells lineup additions."
Tickets for the Hawaii version of the festival are priced at $35 to $50, with floor space serving as standing room only. They go on sale Saturday at all Ticketmaster outlets.
Special VIP ticket packages will also be available, which will provide access to a private area downstairs and a meet-and-greet with select Wu-Tang members.
Want to win a chance to open for Wu-Tang? Visit www.loud.com before Aug. 20 for an opportunity to create an original track using beats by the RZA; a winner will be announced on Aug. 27, and the grand prize even includes air fare to Honolulu ...
I USED TO think that most people waited until Thursday to get a jump on the weekend, but it looks like more and more are getting started the night before.
Last week, I started my Wednesday with a movie at the Ward Entertainment Complex and ran into Beach 5's Christian Yrizarry on the escalator. While at Ryan's Grill for the start of "Beer Fest 2007" a few minutes later, 102.7 Da Bomb morning jock Sam the Man arrived at the restaurant with extended family in tow and was seated at the table next to me.
After dinner, it was off to Chinatown, where I got to help the Malcognitas' lead singer Ara Laylo celebrate her birthday at NextDoor. SMART Magazine's Molly Watanabe and Sarah Honda surprised her with cupcakes, while NextDoor's Lacy Matsumoto popped a few miniature bottles of champagne ...
FRIDAY'S PICKS: Congrats to the Nocturnal Sound Krew's DJ Eskae, who celebrates the one-year anniversary of his monthly "Soul Clap" party at thirtyninehotel this weekend. He'll be joined by DJs Jami and Compose, with visuals provided by Okto Hekion; 21-and-over welcome; no cover before 10 p.m. ... Tropics Diner hosts "Hip-Hop at the Trops: Turntable Lounge," with DJs Revise, Careless1, Packo, Jahson the 45 Revolver, Abe1 and Skid each getting 30 minutes to play whatever they want on the decks. This one is an 18-and-over party with a $3 cover in effect, or you can just stand outside in the parking lot for free ... San Francisco's DJ M3 is the featured guest at Lotus for "Stylus," with an opening set by DJ Ernie K and DJs D-Box and Packo helping to keep three rooms moving until 4 a.m. ...
SATURDAY'S PICKS: House of Flys celebrates its 10-year anniversary with Sick Dog Productions during "Fly" at Cirque Hawaii. DJs Lava and Sovern-T will join the Empire Sound Crew in the lobby, while Crucible and Kamehameha Projects perform live in the theater. This 21-and-over party goes until 4 a.m. ... NextDoor presents "The Acid Wash Saturday Special," a weekend version of the club's Wednesday night '80s weekly with DJs Vegas Mike, G-Spot, Nocturna and Quiksilva. Be sure to wear your leg warmers ... Former Star 101.9 and 102.7 Da Bomb jock Yung Jon Que returns to Honolulu from Las Vegas for a short vacation. He'll be the special guest at "The Light" at the O Lounge ...
IT'S ALMOST time for another birthday, which means I'll be taking a few days off next week to remind myself that I'm turning into an old man. This column will return Aug. 10; be sure to check my blog for updates while I'm gone ...