Shooting found dangerous but not murderous
A 22-year-old man who fired a gun during a 2005 home invasion at a Puck's Alley apartment was found guilty yesterday of the lesser offense of first-degree reckless endangering.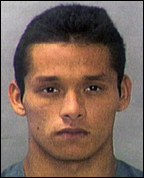 This was Ruben Royce's first trial stemming from a string of crimes including the robbery of actor Josh Holloway's home.
Royce was originally charged with second-degree attempted murder, which carries the penalty of life in prison with the possibility of parole.
"We are enormously pleased by this verdict," said deputy public defender Teri Marshall outside Circuit Judge Karl Sakamoto's courtroom.
"In this case the evidence did not support an attempted murder. He absolutely went there intending to do things, wrong things, criminal things," Marshall said. "He didn't go there intending to commit a murder."
A 12-member jury also found Royce guilty of first-degree robbery, first-degree burglary, use of a firearm in commission of a felony, possession of a firearm and place to keep a firearm.
Senior Deputy Prosecutor Maurice Arrisgado described the verdict as theoretically good, assuming Royce's sentences are served back to back.
Reckless endangering carries a maximum prison term of five years in prison. The robbery and use of a firearm in commission of a felony offenses each carry a maximum prison term of 20 years. The burglary, possession of a firearm and place to keep a firearm offenses each carry a maximum prison term of 10 years.

Royce also faces 26 other charges in separate cases that include the armed robbery at the Hawaii Kai home of Holloway, who plays the character Sawyer on the television series "Lost."
Royce admitted on the stand this week that he and an accomplice had gone to the apartment on Kalo Place to rob the occupants, believing there were lots of money and drugs there, Arrisgado said.
Royce admitted that he brought a gun with him because drug dealers usually are armed, and he wanted to be prepared.
His plan was to knock on the door and pretend to ask for someone as a way of getting into the apartment.
The male who opened the door cussed at Royce, told him to "get the hell out" and tried to close the door. But Royce managed to get his foot in the door jamb, blocking the door, and responded, "Oh, you like die?" Arrisgado said.
Royce then stuck the gun he was holding through the opening in the door and fired. The bullet missed the man and his friend who was trying to help force the door closed.
Royce testified that he pointed the gun around the door just to scare the occupants and that it went off, Arrisgado said.
The jury began deliberating Thursday afternoon and resumed yesterday morning.
Royce's accomplice, Chanh Thay Khounkeo, 28, pleaded guilty to burglary earlier this week and testified against Royce. Under a plea agreement, he will have to serve a five-year prison term with a mandatory one year and eight months.
Marshall said Royce is remorseful of his past criminal actions. "It is sunk into him the real distress and pain that people suffered as a result of his conduct," she said.
Royce's sentencing is scheduled before Sakamoto at 11 a.m. Oct. 2.