| | |
| --- | --- |
| | Wood Craft |
---
Becker celebrates birthday, engagement on lucky 7/11
For
Ruth Ann Becker
, 7/11 was a lucky day as it was her birthday and her engagement to
Don Crusius
of Dallas was revealed.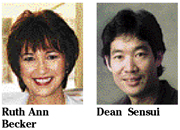 Interior design consultant
Lisa Bos
organized a luncheon at Indigo for Ruth Ann on her special day.
SuAnn Bamer
was a surprise guest and flew in from Las Vegas for the party.
Gina Schultz
from Miami was another guest, as was New Yorker
Lita Tallarico
. Others having fun were
Robyn Schaefer, Pam Chambers, Judy
and
Bob Liu, Leith Anderson, Jeannie DeLamos, Christie Weaver-Scoville, Marie Hansen, Nita Williams, Allan Gifford
and
Ruth Limtiaco
. Ruth Ann will still run Becker Communications here ...
Soon after the May Diamond Head Crater Celebration, publicist Elissa Josephsohn was told she had five malignant golf ball-size tumors in her abdomen. She flew to Cedars Sinai in L.A., where Dr. Beth Karlan's team removed not five, but eight peach-size tumors in late June. The first thing Lisa asked was, "How much did they weigh?" Sounds as if she was already on her way to recovery. Family and friends flew to her side, and she is now at the home of Charlotte and Stanley Kandel. "I'm feeling much better," Lisa said when I called her Thursday. "Think good thoughts." She expects to be home Aug. 1 after more chemo. Debbie Lee is taking care of her three cats ...
Dean Sensui, Kanoe Cazimero recovering well
Former Star-Bulletin photo chief
Dean Sensui
, now with OC16's "Hawaii Goes Fishing" with
Bob Pritchard
, is recovering nicely after the July 3 removal of a nonmalignant, softball-size tumor attached to his spine behind the heart. The surgery was at Queen's July 3. The scar runs from his neck down his back to elbow level. He tells people he got the scar while scuba diving and "along came this boat ..." He also jokes he was a victim of a samurai swordsman. Dean is a comedian. He's getting along fine but wife
Mary
still has to drive for him. Besides "Fishing,"
Dean
and
Audy Kimura
have formed Imagination TV to film commercials ...
Kanoe Cazimero
, who had a cancerous kidney removed June 25, said yesterday she's feeling "pretty good." She is "walking a lot," can drive short distances and has danced a hula at a gathering. "I can't eat a lot yet and have lost 14-15 pounds," she said ...
Ben Wood
, who sold the Star-Bulletin in the streets of downtown Honolulu during World War II, writes of people, places and things in our Hawaii. E-mail him at
bwood@starbulletin.com