The wait is over
Muggles embrace magic and swarm stores as "Harry Potter and the Deathly Hallows" is released
Harry Potter addicts queued up last night for their final fix, the seventh and last of J.K. Rowling's series of books, at Barnes & Noble Booksellers at Kahala Mall.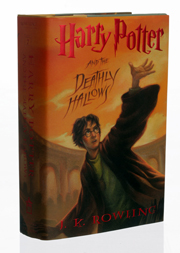 Debra Hill, 51, who came with her mother, Nettie, had what appeared to be tears in her eyes as she thought of the end.
"It's just excitement, something you're waiting for two years," she said. With the end in sight, she added, "It's just sad. It's like you grew up with these people, and all of a sudden they're gone."
Jimmy Field, 16, who grew up with the Harry Potter books, stood in line with his father, John, 54, who began reading them to his four children.
"I'm sad, but I still have hope that she keeps writing them," said Field, who was 8 when he first started reading the action-packed books.
Scores of Pottermaniacs waited, some as early as 8 a.m., for a wristband that would reserve a spot, after the book's release just after midnight last night, for "Harry Potter and the Deathly Hollows."
Best friends Victoria Mulgrew, 23, and Karly Yoshimura, 26, will miss the fantasy world they grew up with.
"I'm kind of nervous about what's going to happen in the last book," Mulgrew said. "I'm kind of sad it's over, too."
Mulgrew dressed as a character named Tonks with purple hair, wearing all black with a "cloak" (a long denim vest) and black leather boots.
"And I have a wand," she said.
Ryan Nagatoshi, 11, who came with his sister, Lauren, 7, and grandparents, has been a devoted reader since the second or third grade. He loves "the excitement of reading it and the adventures that go along with it."
Lauren, who is a big Potter movie fan, said, "Each time, it gets better and better."