Isle jobless rate lowest again
At 2.4 percent, Hawaii ties with Montana for lowest in the nation
Hawaii's jobless rate dipped slightly in June to 2.4 percent, tying with Montana for the lowest rate in the nation.
The seasonally adjusted rate fell from 2.5 percent in May and also in the year-earlier period. The nation's unemployment rate in June was 4.5 percent for the third consecutive month, according to data released yesterday by the state Department of Labor and Industrial Relations.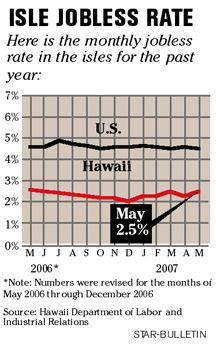 For the first half of the year, Hawaii's seasonally adjusted rate also averaged 2.4 percent.
While jobless numbers have been hovering in the same range for the past several years, the unemployment rate is expected to increase as the economy slows.
"The economy is slowing down some, but we're not seeing that in the tone of the labor market at all," said economist Leroy Laney, a professor at Hawaii Pacific University. "Workers are scarce, employers are having trouble getting workers and keeping workers and that seems to be a continuing trend we've had for the past several years."
But the scarcity of workers is a drag on the state's economic growth, in the sense that the economy might be able to expand more quickly if there were workers to fill available positions, he added.
The latest data is indicative of where the economy was about a year ago, when economic momentum began to deteriorate, said Paul Brewbaker, a Bank of Hawaii economist, adding that the unemployment rate generally lags the economy by six to 18 months.
The state hit a record unemployment low of 2 percent in December.
"The economy lost a bit of its vigor from a year or two ago," he said. "We have to be concerned about whether there's an excessive loss of economic vitality that puts the economy at risk further down the road."
New nonagricultural jobs increased 2.4 percent by 14,800 over the last year, bringing the total job count in Hawaii to 631,800.
The private sector accounted for 86.5 percent of the growth, adding 12,800 jobs. However, jobs in the leisure and hospitality industry decreased by 100 over the month as a result of declining hotel occupancy rates as more visitors opt to stay in condominiums and on cruise ships.
By county estimates, which are not seasonally adjusted, Maui's unemployment rate was the lowest at 2.8 percent, while Honolulu and Kauai's rate was 2.9 percent. Hawaii county posted the highest jobless rate at 4 percent.
By island, Lanai's non-seasonally adjusted unemployment rate was the lowest at 2.3 percent, while Molokai's was the highest at 9.1 percent.