KOI RELEASE PARTY: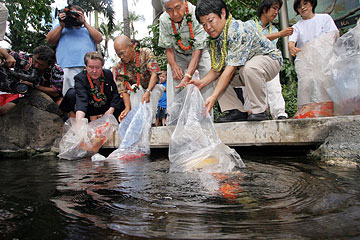 Gift of koi
The Hilton Hawaiian Village receives a donation of 835 fish
There was nothing coy about the 350 colorful baby koi that eagerly swam yesterday into their new home at the Hilton Hawaiian Village Alii Tower pond.
A hundred curious onlookers squeezed around the pond to watch the Aloha Koi Appreciation Society and Kodama Koi Farm donate 835 koi -- 485 koi added to a pond near the Rainbow Tower and 350 to the Alii Tower pond -- to the hotel in hopes of giving the fish some worldly exposure.
The "nishikigoi" (Japanese carp or koi), often referred to as "living jewels," are the national fish of Japan and are widely prized by collectors around the world. The koi have been bred in Japan for their aesthetic appeal and have come to symbolize perseverance, strength and courage.
"(The donation) is so that people can appreciate the nishikigoi," said George Ariyoshi, former Hawaii governor and chairman of the koi society. "Not just the local people, but visitors from all over the world."
Mamoru Kodama, owner of Kodama Koi Farm, and his two sons were also at the ceremony to share how special the koi were to the Japanese culture.
The donation, which is worth nearly $70,000, will add to the hotel's existing 250 koi.
"I was so excited when I heard they wanted to donate the carp," said Noel Trainor, general manager of the Hilton Hawaiian Village. "We never had an official donation like this before."
Since 1985 the 22-acre resort has been home to more than 30 species of wildlife, including penguins, flamingos, sacred ibises, turtles and ducks.
"Customers just love it," Trainor said. "We have a parklike setting here, and the children are captivated by the wildlife."
Kodama Koi Farm in Mililani opened last year and is home to about 140,000 koi, said Taro Kodama, president of the farm. All of the koi are born in Japan and transported to Hawaii. While this is the farm's first donation, the Kodamas have plans to make other donations to hotels, temples and any public place where people can enjoy the koi.
An average koi can grow up to 36 inches in length and have a life span of 25 to 40 years. On some rare occasions, they can live up to 200 years.
"I used to raise koi when I was a youngster," Ariyoshi said. "These koi have such a tremendous value."
The society's purpose is to expose the koi to the world and have educational seminars in which people can learn about the carp and how to raise them, Ariyoshi said.
Kodama Koi Farm will hold a Japan Nishikigoi Expo, Nov. 10-11, at the Hilton Hawaiian Village. The expo will feature the koi and give the public an opportunity to learn more about the fish and how to raise and take care of them.