Lychee a-peel
The time is ripe to find the delicious fruit in isle markets
LYCHEE may come in the rusty colors of autumn, but it's definitely a fruit of summer. The bumpy little globes ripen only in June, July and a small part of August, so availability is a case of don't-blink-or-you-might-miss-it. Keep your eyes open for the next few weeks, though, and you can get your fill, plus freeze some for the other lychee-deprived months of the year.
Most of the fruit sold in Hawaii comes from Asia, but premium local fruit is worth seeking out. Grown mostly on the Big Island, local lychee has the obvious advantage of prime freshness -- it's picked tree-ripened, so it tends to be sweeter, bigger and with better color.
It'll also cost more, though, because of lower labor costs in Asia.
COMMON VARIETIES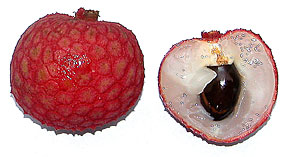 COURTESY KEN LOVE


Kaimana: Bright red and large, slightly heart-shaped and very juicy. Now available.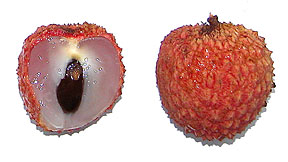 COURTESY KEN LOVE
Bosworth-3: Also known as B-3 and Kwai Mi Pink, it is smaller, with orangish-red skin that is pink on the inside. A sweeter variety, it arrives later in July.
Ken Love, president of the West Hawaii chapter of the Hawaii Tropical Fruit Growers (sometimes called the "fruit maniac"), says Asian lychee can be found for $3 a pound, while local fruit retails for around $6 per pound. Costco is selling 2 1/2-pound bags of Hilo lychee for $9.99.
"We've got to compete on quality," Love says. "We can't compete in price."
Susan Hamilton of Hula Brothers, a grower and packer of exotic fruits in Kurtistown, suggests looking for fruit that is plump and evenly colored, that gives to gentle pressure. Color will range from pinkish-orange to bright red, although brown spots are inevitable as exposure to air tends to discolor the skin.
Avoid fruit that's cracked or leaking. Very brown skin is a sign of age.
Store lychee in airtight bags; it will keep for more than a week in the refrigerator. Eat it quick, though, as it does ferment in the shell. For longer storage, Love suggests simply tossing the bag in the freezer.
Seek out local fruit at the Saturday Farmers' Market at Kapiolani Community College and at specialty shops such as Made in Hawaii Foods in Pearl City (484-0052) and the Wine Stop (946-3707).