HARRY POTTER
Prime time Potter
And so it begins. And so it ends, too, in this double-Potter summer. Wednesday brings the fifth movie in the series, "Harry Potter and the Order of the Phoenix," the beginning of what is sure to be a full season of fuss and bother over the boy wizard, his friends and enemies.
A Potter Party
Kaimuki Public Library celebrates the release of "Harry Potter and the Order of the Phoenix" with a free afternoon of activities on Thursday.

From 3 to 5 p.m. kids are encouraged to come in costume to play Wizard's Chess with giant chess pieces or to participate in other activities on "Diagon Alley."

This event marks the finale of the library's 2007 Children's Summer Reading Program.

The library is at 1041 Koko Head Ave. Call 733-8422.
Ten days later, on July 21, comes the release of the final book in J.K. Rowling's series. "Harry Potter and the Deathly Hallows" brings the whole shebang to an end. Much will be said about Book 7, sure to be dissected with religious fervor, so for now we focus on the movie. Specifically, on preparing you for what is to come with a review of what's gone before.
Here's where our story stands:
In Movie No. 4, "HP and the Goblet of Fire," the Dark Lord Voldemort returns to full human form, or humanish form, given his lack of a nose, in a graveyard confrontation with Harry. It takes Harry's blood and other nasty things to accomplish the act, and in the process, the brave and charming Cedric Diggory, another student, is killed.
"HBGF" ends with the wizarding world divided into those who believe Harry's story of the reincarnation of Voldemort and those who think he's nuts, or even lying.
Dumbledore, headmaster at Hogwarts School of Witchcraft and Wizardry, backs Harry, setting himself up against the bureaucracy of the Ministry of Magic. This is where we find ourselves as "Order of the Phoenix" begins, with the ministry unwilling to accept the reality of Voldemort's return and with Dumbledore under suspicion.
Remember these guys?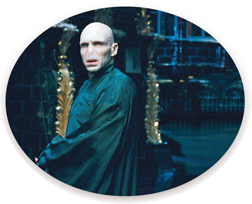 Voldemort
(Ralph Fiennes), He-Who-Must-Not- Be-Named, now has a body to house his evil spirit and ghastly intentions. He still has a mystic connection to a large serpent, Nagiri, and he's still on the prowl for power. He's gathered his Death Eaters -- dark wizards -- around him, although for now they are undercover, some working right within the Ministry of Magic. "Order of the Phoenix" is largely concerned with the psychic link between Voldemort and Harry.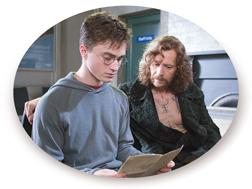 Sirius Black (Gary Oldman), godfather to Harry (Daniel Radcliffe), rejoins the story after being introduced in Book/Movie No. 3. He's still in hiding, because although he did not betray Harry's parents to Voldemort and cause their deaths, the Ministry of Magic refuses to accept that truth and still considers Sirius to be the wizarding world's greatest outlaw.
The new gals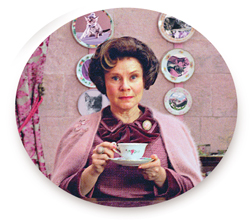 Dolores Umbridge
(Imelda Staunton, left) is the new Defense Against the Dark Arts teacher (they get a new one every year; it's a dangerous position). She's also the Hogwarts High Inquisitor, placed by the Ministry of Magic to keep tabs on Dumbledore. She's snippy, nasty and dangerous -- perhaps the most annoying character in all of children's literature. You'll hate her. You're supposed to.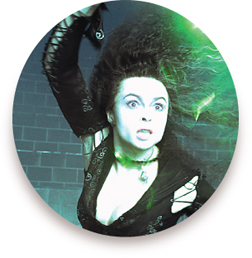 Bellatrix Lestrange (Helena Bonham Carter), Lord Voldemort's most loyal follower and Sirius Black's cousin, escapes from Azkaban, the wizards prison. You'll hate her, too.Luna Lovegood (Evanna Lynch) is a loopy, loony oddball of a fourth-year student with strange beliefs and a sense of reality that's a bit removed from the mainstream. Despite all that, she becomes a compatriot of our trio of heroes -- Harry, Ron and Hermione.
The kiss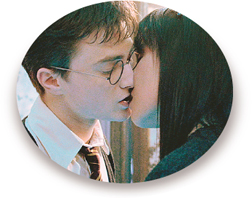 First kisses can be tricky, even for Harry Potter.
Daniel Radcliffe said it took a few takes to get over the nerves of getting the young wizard through his first on-screen kiss (with the teen witch Cho Chang, played by Katie Leung).
And even then he didn't really feel the magic.
"When we started it, we were both a bit nervous," Radcliffe said. "But after the first few takes, it was sort of like any other scene, which is never really what people want to hear. It doesn't really feel any different, because you are still acting."
Producer David Heyman said director David Yates cleared the set to create more intimacy for the scene, and the crew crowded around a monitor to watch.
"The makeup artist, who's known Daniel really well from the age of 10, she shed a tear," Heyman said. "For me it was quite moving." -- Associated Press
WARNER BROS. PHOTOS