| | |
| --- | --- |
| | Wood Craft |
---
Kanoe Cazimero has tumor, kidney successfully removed
K
anoe "Tootsie" Cazimero
, sister of the
Brothers Cazimero
and one of the town's hula queens, was hospitalized June 19 and had a kidney with a tumor removed. She said from Straub Hospital Thursday that the tumor was capsulized, isolated in the kidney and she will not need chemo or radiation.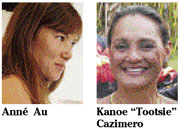 She was scheduled to go home yesterday. Kanoe wants to thank all her family and friends here, in Europe and in Asia who flooded her with loving visits and notes ...
Melveen Leed
and
Rodney "Tiny" Cazimero
, another of Kanoe's brothers, performed at the opening of Luke's Place,
Jim Sargeant's
restaurant-bar in Hawi last weekend. Hawi, on the Big Isle, is Rodney's hometown. He's known as "Tiny" there ... I was given incorrect names for hula dancers
Kahi Dela Cruz
and Rodney's daughter,
Summer Kalei Cazimero
, that ran in Wednesday's column ...
ONWARD: Doris Duke and her Shangri La are given an 11-page spread in the July issue of Town and Country. The striking pictures are huge, most taking up a full page and one running across two pages. Duke is in two of them. The story points out she had some of her best times in Hawaii, enjoying the friendship of locals such as the Kahanamokus, rather than high-society families. Hannah Veary, mom of singer Emma Veary, was a close Duke friend ...
The grass doesn't grow under Anné au's feet
Anné Au
, a part-time bartender at Thirty Nine Hotel, is into serving up high-fashion creations rather than cocktails in her Anné Boutique in Kaimuki. Besides her shop and bartending, she is also a kung fu instructor at Au's Shaolin Arts, owned by her dad,
Ben Seng Au
... The Alana in Waikiki will give free chocolate chip cookies to anyone who walks into the hotel between 12:01 a.m. and 11:59 p.m. on the Fourth. Room stays are not necessary ...
Sonny Silva
plays guitar and croons a bit Tuesday and Saturday nights at Du Vin ...
Guido
and
Maria Salmaggi
marked their 28th wedding anniversary Thursday ... The Hula Ho'olauna Aloha fest, with kumu
Frank Hewett
and dancers from Japan and Hawaii, offers free events next Saturday at Ala Moana Center and July 8 at the Royal Hawaiian ... I'm on vacation until July 16. Next Wood Craft appears July 18 ...
Ben Wood
, who sold the Star-Bulletin in the streets of downtown Honolulu during World War II, writes of people, places and things in our Hawaii. E-mail him at
bwood@starbulletin.com