---
FAST FACTS HAWAII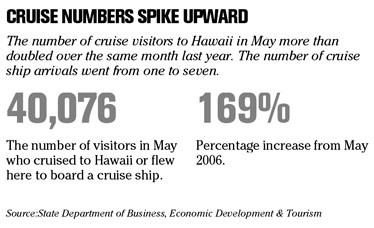 ---
HAWAII
A&B promotes Ching to senior VP
Alexander & Baldwin Inc.
has named Meredith Ching senior vice president, the top female executive of one of Hawaii's oldest companies.
She has been vice president of government and community relations since 1992 and will continue to retain those responsibilities in her new post.
Ching, who previously was a financial analyst for Dillingham Corp., joined A&B in 1982 and was promoted to vice president of corporate natural resources in 1988.
She received an MBA from the University of California, Los Angeles and a degree in civil engineering from Stanford University.
Among her numerous community leadership positions, she is on the boards of the Hawaii Nature Center, Nature Conservancy of Hawaii, YMCA and Kapiolani Health Foundation.
NATION
Northwest Airlines will cut flights
EAGAN, Minn. »
Northwest Airlines Corp.
said it will cut flights and may hire more pilots to help ease crew shortages that forced cancellation of 12 percent of its schedule this week.
Operations should return to normal this weekend, Northwest said yesterday in a statement. To prevent future pilot shortages, the fifth-largest U.S. carrier will drop a daily flight to Germany on July 18 and trim domestic flying by 3 percent starting in August.
Northwest also "will initiate new pilot hiring, if necessary" after recalling the rest of the pilots still on furlough, the airline said.
Northwest has cited bad weather, air-traffic-control congestion and an 80 percent surge in pilot absenteeism over a year earlier for the hundreds of canceled flights in the past week. It didn't give a total. Airline-data tracker FlightStats put the count at 1,210 through yesterday since June 22.
Bear Stearns shakes up funds unit
NEW YORK »
Bear Stearns
moved quickly yesterday to replace a senior executive whose unit ran two hedge funds that nearly collapsed this month because of aggressive bets on mortgage securities.
The executive, Richard A. Marin, was succeeded as chairman and chief executive of Bear Stearns Asset Management by Jeffrey B. Lane, a vice chairman at Lehman Brothers and a Wall Street veteran known for his administrative skills.
Bear Stearns said that Marin would remain as a special adviser to Lane.
The Securities and Exchange Commission has also started an informal inquiry into issues surrounding the Bear hedge funds and how the industry is valuing mortgage-related securities like those that Bear holds.
Mattel licensing DC Comics toys
EL SEGUNDO, Calif. »
Mattel Inc.
, the world's largest toymaker, expanded its partnership with
Time Warner Inc.
to make toys based on DC Comics characters such as Aquaman and Wonder Woman.
Mattel will have access to all of DC Comics' more than 1,000 heroes and villains as part of the multiyear agreement, the companies said yesterday. The financial terms weren't disclosed.
Mattel began making toys and games related to DC Comics' Batman and Superman in 2000. Hasbro Inc., the world's second-largest toymaker, works with Marvel Entertainment Inc. to develop toys based on Spider-Man, Fantastic Four and other Marvel Comics heroes.
Time Warner's Warner Bros. Consumer Products division announced last week that in 2008 Mattel will make action figures, vehicles and other toys for its films "Speed Racer" and "The Dark Knight," a new Batman movie.
WORLD
China overhauls labor law
BEIJING » China's legislature passed a sweeping new labor law yesterday that strengthens protections for workers across its booming economy, rejecting pleas from foreign investors who argued that the measure would reduce China's appeal as a low-wage, business-friendly industrial base.
The new labor contract law, enacted by the Standing Committee of the National People's Congress and taking effect next year, requires employers to provide written contracts to their workers, restricts the use of temporary laborers and makes it harder to lay off employees.
The measure, the biggest change in Chinese labor law in more than a decade, is the latest step by President Hu Jintao to increase worker protections in a society that, despite its nominal socialist ideology, has emphasized rapid capitalist-style economic growth over enforcing labor laws or ensuring an equitable distribution of wealth.
---
BUSINESS PULSE