| | |
| --- | --- |
| | Island Mele |
---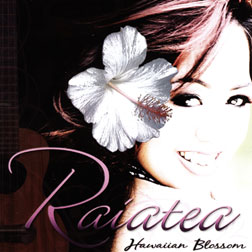 "Hawaiian Blossom"
Raiatea Helm
(Raiatea Helm)
Raiatea Helm reaffirms her position as the foremost female Hawaiian falsetto singer of her generation with this beautiful album, while also exploring broader musical horizons. Helm is a two-time Female Vocalist of the Year at the Na Hoku Hanohano Awards and a Grammy Award nominee. Her work here is worthy of another Hoku win and a Grammy as well.
She opens by establishing her traditionalist credentials, first with a delightful falsetto rendition of " 'Ahulili" that's perfect for halau hula. Falsetto arrangements of "Poi Awa'awa" and two Helen Lindsey Parker songs, "Baby 'O Pu'ulani" and " 'Olu 'O Pu'ulani" follow.
The use of electric keyboards rather than piano on "Ei Nei" signals a shift toward hapa-haole and mainstream American pop. This continues as a piano and Western percussion instruments give a hapa-haole ambiance to " 'E Ku'u Tutu," and a clarinetist sits in on "My Dede," a hapa-haole song of apparently unknown origin. It is only a short step musically to the finale, a sweet and romantic cocktail-lounge rendition of "Taking a Chance on Love" that suggests that a full album of American pop standards would be an excellent addition to her discography.
Robert Cazimero, Led Kaapana, Hoku Zuttermeister and a string quartet are among the guests who contribute to this perfect "blossom" of an album.
---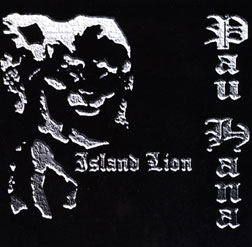 "Island Lion"
Pau Hana
(Island Lion Publishing)
"Island Lion" finds Pau Hana boldly going where, well, many Jawaiian and local reggae bands have gone before, but the octet is making the journey without the dead weight of generic pop-chart remakes. There's just enough ukulele in the instrumental arrangements, and sufficient local references in the lyrics, to establish the group's island origins.
Lead vocalist John Solomon is the primary lyricist, but guitarist Hagoth Aiono also has a good ear for lyrics. Credit Solomon with the noteworthy pun involving the word "pride" in the title song, and Aiono for the whimsical lyric images of local life found in "Dipping in the Lolo." The latter is one of several contemporary songs that blend elements of reggae, Hawaiian and hapa-haole music in effective style. One of the others, "In the Mood," makes masculine lust sound sincere and nonexploitative; it also shows the group's knack for harmonies.
Pau Hana shows its musical savvy by using commercial mainstream reggae rhythm to deliver an anti-violence message with "Three Plus Five," and demonstrates the musicians' talents with the instrumental bridge on "Soia."
---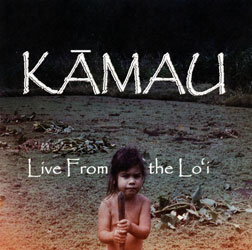 "Live from the Lo'i"
Kamau
('E'epa)
The musical traditions of two island families are brought forward another generation with this long-anticipated, perfectly crafted album. Kamana Beamer is the son of Kapono Beamer, and Kaliko Ma'i'i is the son of Steve Ma'i'i. The group plays in a style described a year or so ago as "maoli music," a fusion of Hawaiian and non-Hawaiian folk reminiscent of what Big Island Conspiracy was doing in 1999. But there is nothing derivative in what Kamau does here.
Beamer, the resident composer, writes with insight and passion. Much of his work conveys political messages about the alienation of the Hawaiian people from their land and their culture. The title song addresses those subjects and others, and establishes the theme. Two of his other contributions, "This Morning" and "Hawaiian Kingdom," reiterate it in memorable style. A medley that combines "Pupuhinuhinu," his grandmother's best-known song, with another of his originals provides a link to his kupuna while also addressing contemporary issues.
Reinforcing the impact are liner notes that include lyrics, English translations of Beamer's lyrics and information about the experiences and people that inspired him.
And it isn't political! Beamer proves equally adept writing introspective love songs, and shows his sense of humor with a song titled "Cucumba."
John Berger
, who has covered the local entertainment scene since 1972, writes reviews of recordings produced by Hawaii artists. See the Star-Bulletin's Today section on Fridays for the latest reviews. Reach John Berger at
jberger@starbulletin.com
.